Atomos has unveiled its latest Shogun Series generation of camera-mounted monitor-recorders, the Shogun and Shogun Ultra. These releases follow closely on the heels of last month's introduction of the new Ninja models. Atomos Latest Shogun Series both the Shogun and Shogun Ultra come equipped with a completely revamped operating system, AtomOS 11, which introduces a range of innovative features including EL Zone exposure referenced colorized images, ARRI False Color, and new scheduled playback and recording tools.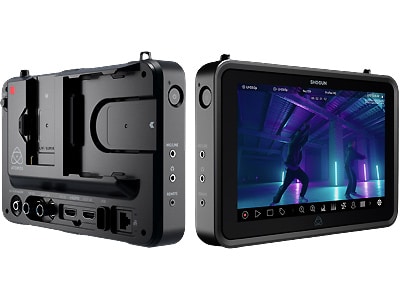 The new Shogun models include an expanded set of standard codecs, such as 6K Apple ProRes RAW (8K for the Shogun Ultra), Apple ProRes, DNxHD, and now H.265, which was previously a paid option. To maintain consistency, the Shogun and Shogun Ultra share the same distinctive features as the new Ninja and Ninja Ultra.
Key distinctions between the Shogun and Ninja lines include the Shogun's brighter 2000nit 7-inch screen and its fully integrated connectivity. With both 12G-SDI and HDMI inputs and outputs, the Shogun is capable of cross-conversion, a feature not available on a Ninja equipped with Atomos Connect. Additionally, the Shogun offers more power options, featuring an NP battery slot and an integrated 2.1mm locking jack DC input socket.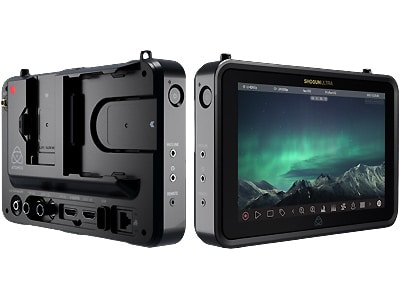 The Shogun Ultra is particularly well-suited for use with cinematic cameras, offering the ability to record full-quality files in Apple ProRes RAW at up to 4K 60p while simultaneously recording in HD 60p to H.265. It also supports automatic matching of filenames, timecode, and record triggers from popular models of ARRI, Canon, RED, and Sony cameras.
Both Shogun and Shogun Ultra models introduce a new 4K camera-to-cloud mode, enabling the recording and uploading of higher-quality bitrate H.265 video with increased framerates and customizable parameters. These files are lightweight enough for camera-to-cloud workflows but maintain sufficient quality for immediate use in social media, sports reporting, or news gathering.
Both Shogun models can take advantage of Atomos RemoteView, a novel technology allowing users to share live views from their Atomos screens with other Atomos monitors, as well as with iPads, Macs, and Apple TVs wirelessly. This feature enables remote monitoring from anywhere in the world, providing unprecedented capabilities for production teams at this price point.
Shogun Ultra offers lower latency cloud connectivity and increased throughput, thanks to the integration of Wi-Fi 6E, showcasing Atomos's commitment to incorporating cutting-edge technology into its cloud-enabled products.
Furthermore, AtomOS 11 will be provided as a free firmware update to existing Shogun Connect users. Going forward, Shogun Connect will be succeeded by Shogun Ultra.
Related Products: 
Shogun CONNECT HDR Video Monitor and Recorder