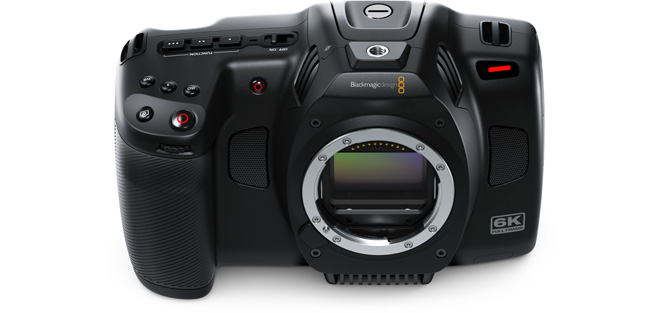 Introducing the Blackmagic Cinema Camera 6K a cutting-edge digital film camera boasting a full-frame 6K sensor, an impressive 13 stops of dynamic range, an L-Mount lens compatibility, and dual native ISO capabilities reaching up to 25,600 for outstanding low-light performance. This remarkable camera allows filmmakers to achieve large-format cinematic image quality in a compact and lightweight body. The Blackmagic Cinema Camera 6K offers a world of creative possibilities by employing the versatile L-Mount, which seamlessly accommodates both modern and vintage lenses. This groundbreaking camera is available for immediate purchase.
The newly launched Blackmagic Cinema Camera 6K represents the pinnacle of digital film cameras, delivering impeccable skin tones and vivid, organic colors. Its colossal full-frame 24 x 36mm 6K sensor, paired with its wide dynamic range and custom-designed optical low-pass filter, ensures unparalleled image quality. What sets it apart is its ability to simultaneously record deep bit depth Blackmagic RAW and H.264 proxies during cloud and mobile workflows, a technological feat unmatched by any other camera. This fusion of cutting-edge technology, superb image quality, and remarkable portability makes it a standout choice.
The Blackmagic Cinema Camera 6K's expansive full-frame sensor, boasting a native resolution of 6048 x 4032, is nearly three times larger than the Super 35 sensor. This allows filmmakers to work with a shallow depth of field and uncropped anamorphic lenses for an authentic cinematic aesthetic. With its 13 stops of dynamic range and dual native ISO, ranging up to 25,600, this camera produces astonishingly low-noise images in all lighting conditions. It offers the flexibility to shoot at full sensor resolution at 36 fps or at 120 fps in a windowed mode.
This large full-frame sensor opens up diverse possibilities for working with various film formats and aspect ratios while maintaining exceptional quality. It provides filmmakers with an open gate 3:2 image, enabling post-production reframing of shots. Furthermore, it facilitates true 6:5 anamorphic shooting without cropping, delivering highly detailed widescreen cinematic images. The sensor also offers a Super 35-sized window for an instant close-up version of shots that seamlessly integrates with open gate footage, empowering creators to craft unique cinematic content of the highest caliber.
The Blackmagic Cinema Camera 6K features an advanced L-Mount, designed to accommodate full-frame sensors while ensuring compatibility with a wide range of new and vintage lenses. With a generous diameter of 51.6mm, the L-Mount supports the latest full-frame lenses from renowned manufacturers like Leica, Panasonic, and Sigma. Its short flange distance of only 20mm allows for easy lens mount adaptability without compromising image quality. The L-Mount grants filmmakers the versatility to work with virtually any lens, unlocking endless creative possibilities.
This exceptional camera can capture footage in standard resolutions and frame rates, ranging from HD to DCI 4K and even 6K. It also excels at still photography, with the ability to capture images at 24.6 megapixels. Filmmakers can achieve frame rates of up to 36 fps at 6048 x 4032 (3:2 open gate), 60 fps at 6048 x 2520 (2.4:1), 60 fps at 4096 x 2160 (4K DCI), and even higher frame rates by using sensor windowing, such as 100 fps at 2112 x 1184 (Super 16) or 4.8K 24 fps at 4838 x 4032 for anamorphic shooting. Additionally, it supports 120 fps recording in 1080HD.
The Blackmagic Cinema Camera 6K boasts a built-in CFexpress card recorder and a USB-C expansion port for direct recording to external flash media disks or an SSD. CFexpress media offers enhanced durability and speed, making it ideal for capturing full-resolution, 12-bit Blackmagic RAW files. Users can record over an hour of stunning 6K footage on a single 256GB CFexpress card.
Featuring a sizable and bright 5-inch HDR touchscreen, this camera simplifies framing and precise focusing, even under challenging conditions. On-screen overlays display essential information, including status and recording parameters, histograms, focus peaking indicators, levels, frame guides, and more. Users can swiftly apply 3D LUTs to monitor shots with their desired color and style. The LCD monitor can tilt up to 180 degrees flat and down to 47 degrees, offering flexibility in monitoring shots from various angles. With a remarkable 1500 nits of brightness, filmmakers can confidently frame their shots, even in direct sunlight.
To enhance outdoor and handheld shooting accuracy, the Blackmagic Cinema Camera 6K supports an optional viewfinder. This viewfinder features a high-quality 1280 x 960 color OLED display with a built-in proximity sensor and a 4-element glass diopter for precise focus adjustment within a range of -4 to +4. Attaching the viewfinder to the Blackmagic Cinema Camera 6K is a simple task, as it mounts securely on top of the camera with a single screw.
The camera is powered by high-capacity NP-F570 batteries, featuring a locking DC power connector to ensure uninterrupted shooting. Additionally, the included AC plug pack can power the camera or charge the battery when not in use. The USB-C expansion port can also trickle charge the battery, allowing users to utilize portable battery packs, mobile phone chargers, or laptops. For extended shooting sessions, an optional battery grip is available, enabling users to add extra batteries and significantly extend the camera's runtime.
A 36 x 24mm full-frame sensor boasting a 6K resolution of 6048 x 4032 pixels.
Open gate 3:2, full height 6:5 anamorphic, and Super 35 shooting modes.
L-Mount compatibility with a broad range of photography and cinema lenses.
Records at full resolution up to 36 fps or 120 fps in windowed mode.
Rapid CFexpress card recording.
Adjustable HDR 1500 nit LCD screen.
Optional Blackmagic Pocket Cinema Camera Pro EVF.
Utilizes NP-F570 batteries with a locking DC power connector and optional battery grip.
Related Products: 
Blackmagic Pocket Cinema Camera 4K Handheld Digital Film Camera
Blackmagic URSA Mini Pro 4.6K G2 Digital Film Camera
Blackmagic Pocket Cinema Camera 6K Camera with EF Lens Mount
Blackmagic Pocket Cinema Camera 6K Pro
Blackmagic URSA Mini Pro 12K 35mm Digital Film Camera