Do you often wonder what separates the standard video shoots from professional ones? Most of us wonder why even though we run videos we shot on our phone cameras through software, it still doesn't come out as professional looking and sounding like our favourite movie studios or even our favourite YouTubers.
While the most straightforward answer would be the money these companies and people have, it wouldn't be as effective if you don't have the right tools for the job. This fact rings true with audio/video switchers and mixers since some can perform well even though they are relatively affordable.
Excited to find out what these professional and economically efficient audio/video switchers and mixers are? Read more to find out.
Professional Video Switchers
Also known as "video mixers," switchers are responsible for facilitating signals from multiple video sources. Professional Video switchers can also send out signals to multiple monitors, or in some cases, stream on various live streaming platforms simultaneously.
Video switchers are an essential part of video production because scenes or sets that use a multi-camera setup need to find the best camera angle. A switcher allows directors to do just that.
Having a professional video switcher on your small video production or your live stream can be a game-changer because it offers variety and the ability for you to showcase key elements in the video.
Suppose you're a streamer, and you've only used a single camera that serves as your face cam; with switchers, you can also use another camera for your hands to show your viewers your skills! The possibilities are endless when you have switchers at your disposal, and the only limit is your imagination.
Audio Mixer
Have you encountered ASMR videos before? If so, are you amazed by the audio quality of these videos and how they managed to capture the faintest sound? Aside from having a high-quality microphone, these content creators also use audio mixers.
Audio mixers are in charge of everything that has to do with audio, from effects to volume to the mixing. Audio mixing is a complicated process since it requires balancing sound frequencies not to overlap and negatively affect the whole quality of the audio.
This device is not only a sound engineer's best friend; it's also something music producers regularly use since mixers allow you to customize your audio output to your liking.
Do you want the lower end to produce more booming sounds? Or would you prefer if the treble is much higher? All of these can be done with audio mixers.
5 Professional Audio/Video Switchers and Mixers
It's hard to run out of options for audio and video switchers and mixers on the market; there are many such devices to choose from. However, to get the most out of your switchers or mixers, you need the best devices for the job.
Some devices only specialize in audio mixing, while some can serve as your all in one multimedia device. Choosing the right equipment for the job is crucial since it will save you money and save you the time and effort required to operate individual devices.
We have narrowed the choices for the best audio/video switchers and mixers to five. Here are those devices:
1. Roland V-1200HD Multi-Format Video Switcher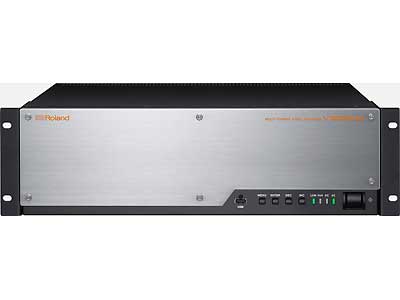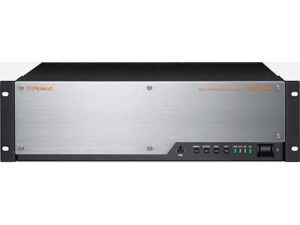 Don't let the name fool you; the Roland V-1200HD Multi-Format Video Switcher isn't just a video switcher; it can also double as an audio mixer. Tired of finding another device for audio mixing after your video post-processing is done? Get the Roland V-1200HD and never have to worry about that.
This device can accommodate up to 10HD video inputs, and an expansion slot is included if you want to extend the number of inputs or outputs some more.
As for the video effects, you can take your pick from chroma keys, picture in picture, luminance key, and more. This device is packed with features that make it an ideal all in one multimedia tool for your production.
Core Features:
Controls up to 7 remote cameras
Expandable slots for input/output
16-channel audio mixer
10 SDI and 4HDMI ports
2 M/E, 1.5 M/E, and 1 M/E switching modes
2. Hollyland Streamix M1 Live Stream Switcher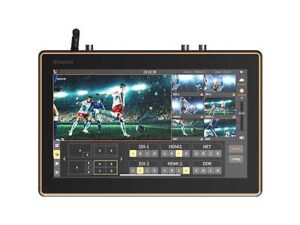 The Hollyland Streamix M1 Live Stream Switcher boasts a capacity of 256 GB RAM, boosting the performance of its processor and allowing for simultaneous input signals without the lag.
This device can also handle five video inputs at once, allowing for more camera angles for your video shoots. A built-in audio mixer is also included, eliminating the need to find another separate device for your audio editing.
Much like the devices featured in our article about live streaming devices, the Hollyland Streamix is also compatible with major live streaming platforms like Facebook, YouTube, and other platforms under the RTMP server.
Core Features:
2 SDI and 2 HDMI input
Extremely portable
Touchscreen audio mixer
Wide variety of video effects
3. YoloLiv Yolobox Pro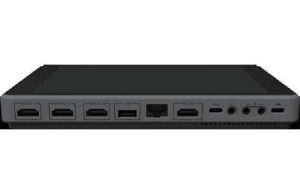 Affordable and versatile, the YoloLiv Yolobox Pro is one of the most reliable multimedia devices on the market. Having functions like encoding, recording, video switching, and also serving as a video monitor, the Yolobox Pro is a tool that can adapt to different situations.
This device can also have 3 HDMI inputs 1 HDMI output, and it can accommodate and switch between 8 video sources. The video resolutions on offer range from 540p to 1080p, giving you options that still look good even on the lower resolutions.
The Yolobox Pro is also highly portable, having a weight of 750g, and being 8-inch large, it's like having your professional multimedia studio in your pockets! If you're looking for a device that is versatile and lightweight, the YoloLiv Yolobox Pro is your best bet.
For an in-depth review of the YoloLiv Yolobox and Yolobox Pro, you can check out our other excellent article about this amazing device.
Core Features:
8-inch LCD, and weighs 750g
Accommodates up to 9 video sources
Variety of video effects
Built-in audio mixer
Compatible with major streaming platforms
4. DataVideo KMU-200 Switcher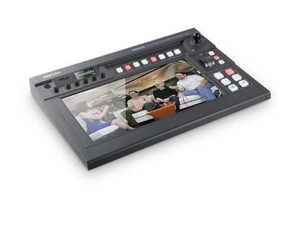 Similar to the YoloLiv Yolobox Pro, the DataVideo KMU-200 Switcher fulfils many roles, including that of encoders, audio mixers, and of course, switchers. This device's encoding ability allows its users to directly upload the recorded video without using a separate device.
Most recorders don't allow vertical recording. Images are not appropriately adjusted when users attempt to record a video vertically using their phones, and the cropping is very rough. With the KMU-200, vertical recording is supported, and the video quality doesn't suffer.
The built-in audio mixer supports XLR and RCA inputs, and it performs the standard functions you've expected with audio mixers. If you're looking for a reliable audio/video switcher and mixer, the KMU-200 won't disappoint.
Core Features:
HD and Ultra HD support
Supports resolutions from 720p to 1080p (Output)
4 channels for audio mixing
Supported input resolutions: 1080p to 2160p
5. Roland V-02HD Video Mixer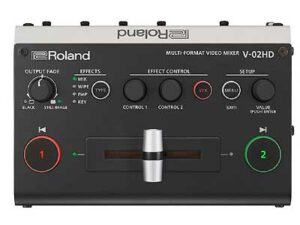 Bigger doesn't always mean better, and the Roland V-02HD Video Mixer is proof of that. This device is highly portable, but its portability doesn't overshadow its performance. A switcher, scaler, and an audio mixer all in one, the V-02HD is ready for anything your project might need.
Armed with the revolutionary cross-dissolve function, this device can seamlessly transition from one screen to the next. This video mixer is also easy to operate because of its two-button operation. You no longer need to master complicated steps to utilize this device fully.
The audio mixer function of this device allows you to connect analog audio into an HDMI port, enhancing the audio quality of your projects. The audio mixer can also record audio files and transfer them to a separate audio mixer for further editing.
Core Features:
HDMI input and output
Supports resolutions from 480p to 1080p
Switcher, scaler, audio mixer all in one
Variety of video effects
Essential audio mixing functions
Conclusion
Video switching, post-processing, and audio mixing should no longer be a problem with the devices discussed. Gone are the days when you would actively seek out individual devices built for a specific purpose. The devices discussed prove that video production and audio mixing can be for everyone.
Expandore is your one-stop-shop for your professional audio/video switcher and mixer needs. We are dedicated to bringing you high-quality devices that can help you make your artistic visions into reality.
For devices similar to the ones listed above, or if you want to read other amazing blogs or discover amazing deals, feel free to browse around our site.