Yolobox: Economical Solution for Live Video Switching and Streaming
Yolobox or Yoloboxpro offers you the Simplest and more economical solutions for setting up a Live Multiple Video input Switching and mixing (with transition effects and *Chroma Key ) and enables you to stream simultaneously to 3 streaming Platforms ( e.g. Facebook, Youtube, and Twitch or RTMP )
Compared with the traditional set up you would require the following besides the Cameras
1. A multiple Video input switcher /Mixer
2. Monitor for Multiple views
3. Monitor for Program Out
4. A video/ audio recorder
5. A capture card
6. A Computer for Video Capture and Streaming
* Chroma Key, Applicable for Yolobox Pro only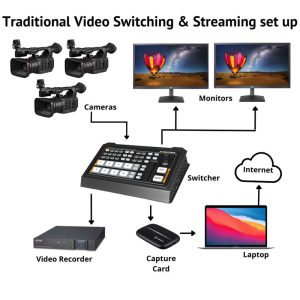 Now you are much lighter to perform a live video Switching or streaming
With the Yolobox /Yolobox Pro,/Yolobox Mini You can do tremendous cost savings by eliminating the following equipment
1. No Video Monitor is required, as the product itself is an All in one 7 inches or 8-inch high-quality monitor, in which you can view both Multiview and the Program out
2. No recorder will be needed, as the device allows to record the Video in MP4 via SD card
3. No Capture card is needed, as the device is an encoder allowing to do live streaming by connecting it to a Wi-Fi, Ethernet, or LTE/4G SIM card.
4. No Computer/Laptop is needed, as it can perform #3.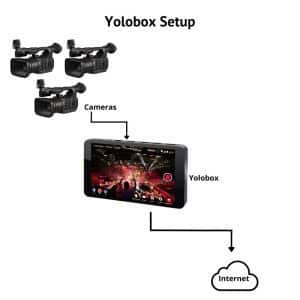 Introducing Yolobox
There are 3 models
1. YoloLiv YoloBox Portable All-in-One Multi-Camera Live Streaming Encoder, Switcher, 7 inch Monitor, and Recorder
2. YoloLiv YoloBox Pro Portable All-in-One Multi-Camera Live Streaming Encoder, Switcher, 8 inch Monitor, and Recorder
3. Yolobox Mini, 5 inch Monitor with 1x HDMI and USB Input, It is a streaming encoder.
Functions
The device works as a video switcher, with a wide choice of picture-in-picture templates as well as graphic layers. It has a built-in encoder allowing you for live streaming, and it can record the program out into an SD card.
Overlays
You can make your live stream more interesting by adding logos/watermarks/rolling captions Customized PiP options, which include an Interview mode, allow you to bring a unique presentation and feel/touch to your stream
Engage with your audience in real-time via feature comment overlays
In the event of recording or streaming a sports event, the customizable scoreboard feature displays a real-time-controlled scoreboard for professional results
There is built-in lower-thirds templates that allow you to edit any text to enhance the presentation.
Internet
You can connect to the internet using the integrated RJ45 (Ethernet) port, Wi-Fi, and via cell service using an optional SIM card.
Simultaneous Streaming
YoloBox will first push your feed to the YoloLIV platform, from where it automatically forwards your feed to a maximum of 3 destinations simultaneously.
Summary
1. It is a Monitor (7 and 8 inches, 2 models available)
2. It is a Video Recorder (Via SD card up to 128 GB in size in PM4 format)
3. It has a Video Switcher with  multiple input channels (number of inputs depending on the Model)
4 It is a streaming encoder (allows you to stream to 3 platforms simultaneously, e.g., FB, U -tube and Twitch, and RTMP (s)
5. It Can be self-powered (built-in battery which can last for 3 hrs, for the longer operation you may add in a power bank) thus increasing your mobility. It is non -AC dependent
6. With this Device, You need no Computer, Monitor, etc. – as compared to the traditional way – thus it is super portable.
7. For Streaming – 3 ways of doing it. Wi-Fi (Hot spot), LTE Sim card (LTE connection requires SIM card and data plan), and your indoor Ethernet connection.
Target Applications
1. Wedding videographer (Best application for sharing of live stream between 2 venues)
2. Outdoor Sport – Streaming (Yolobox has a Scoreboard Function) and it has a built-in battery that lasts for 3hrs of operation and most importantly it offers you quick deployment of your gears
3. Church services – No More cumbersome equipment involved. And it is quick to set up.
4. Best for Zoom Presentation – with multiple cameras angle views, playback pre-recorded video, presentation with PDF file enhanced with Logo, subtitle, and even Chroma Key for the Presenter.
5. Musical Events
Conclusion:
it is a Box that does everything – Live Switching and Streaming anywhere anytime without reliance on AC power supply.
To understand and complete your RTMP(S) setup, Custom RTMP Setup tutorial, will help you.
For more detail, please refer to the following Links
Yolobox
Yolobox Mini
Yolobox Pro
Others Reading Material
Yolobox Introduction
Comparing OBS software with Yolobox
Read our Yolobox Blog
Main core features of Yolobox
Others Site
Yolobox
Yolobox Pro
Yolobox Mini