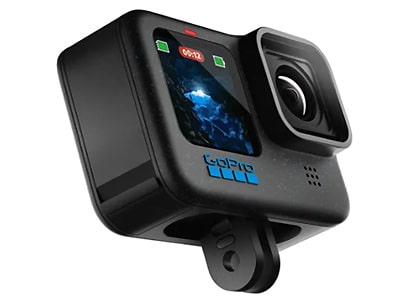 When it comes to capturing breathtaking moments of adventure and preserving memories through the lens, there's no name more synonymous with excellence than GoPro. Designed to cater to the insatiable spirits of adventure enthusiasts and the creative minds of photographers, GoPro has established itself as a pioneer in the realm of action cameras. Renowned for its sleek design, remarkable durability, and unparalleled image stabilization capabilities, this brand has earned its reputation as the go-to device for those seeking to seize life's most exhilarating experiences.
Building on the success of the Hero 11 series, which made its debut in September of the previous year, anticipation is brewing for the next masterpiece from GoPro. As the pages of time turn, the torch is ready to be passed to its successor, tentatively named the GoPro Hero 12 Black. With the vanguard of innovation approaching, the online sphere has been set ablaze with tidbits of information, thanks to the insightful disclosures of the esteemed tipster Roland Quandt.
The GoPro Hero 12 Black takes a stride forward while retaining its predecessor's essence, embracing subtle cosmetic refinements. Its compact dimensions and iconic design echo those of the beloved Hero 11 Black, yet an intriguing metamorphosis awaits in the realm of aesthetics. The upcoming iteration boasts a body material adorned with delicate speckles of blue against the classic black backdrop, adding an artistic flair to its visual appeal. Glimpses of the camera's soul can be experienced through the 2.27-inch main display on its rear and the modest 1.4-inch screen gracing its front facade.
Under the hood, the GoPro Hero 12 Black is equipped with a 27 MP 1/1.9-inch camera sensor, aligning itself with the pedigree of its predecessor. While video screen captures maintain a resolution of 24.7 MP, users are granted the creative freedom to explore shooting in both 8 and 10-bit settings, amplifying the potential for cinematic brilliance. The action camera emerges as a capable companion for immersive videography, accommodating up to 5.3K video recording at a seamless 60 frames per second. The added touch of HDR compatibility enhances the visual feast, while a suite of features including HyperSmooth 6.0 stabilization, Horizon Lock, HyperView, and HyperSmooth AutoBoost ensure a captivating and stable viewing experience.
Powering these feats is the familiar 1,720 mAh Enduro battery, a reliable source of energy that has propelled the GoPro legacy. The Hero 12 Black, however, has an extended lease on life. While adhering to the battery capacity of its predecessor, this iteration manages to squeeze out up to 70 minutes of usage when capturing spellbinding 5.3K content at 60 fps. Moreover, for those opting for Full HD filming, the device showcases its stamina by sustaining video capture for approximately 2.5 hours, accommodating a myriad of creative endeavors.
In essence, the GoPro Hero 12 Black emerges as more than a camera—it's a testament to innovation, a conduit for unbridled exploration, and a guardian of memories waiting to be etched into eternity. As we anticipate its imminent arrival, one thing remains certain: the future of adventure is about to be redefined, one frame at a time.
GoPro Hero Series Family Products:
GoPro Hero 9 Black Action Camera
GoPro Hero 10 Black Action Camera
GoPro Hero 11 Black Mini Action Camera
GoPro Hero 11 Black Action Camera
GoPro HERO11 Black Creator Edition