AJA GEN10 HD/SD Sync Generator Features 7 Outputs
AJA GEN10 is a cost effective and flexible SD/HD/AES sync generator. The GEN10 features 7 outputs including 2 groups of independently controlled SD/HD sync outputs and 1 AES-11 output. The AJA GEN10 SD outputs can be switched between Color Black or Color Bars. HD tri-level sync can be switched between 19 different HD formats including all that are in use today.
The AES-11 output can be switched between SILENCE and TONE. All outputs are in sync with each-other and are sourced from an accurate master time base.
Compact and Portable
AJA Mini-Converters are small enough to fit behind a monitor, in the back of a rack or directly on a camera rig. A locking power connector can't accidentally pull loose and an optional P-TAP power cable allows for battery power in remote locations.
Universal Power Supply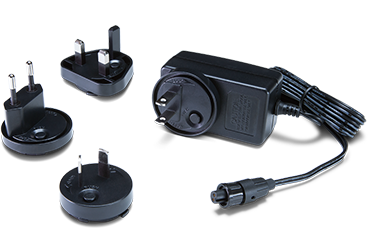 All AJA Mini-Converters ship with a universal power supply that includes international plug connections for use around the world.
AJA Quality – Guaranteed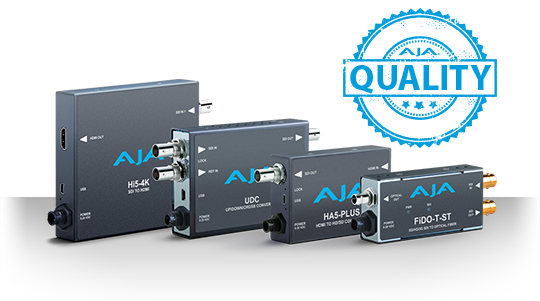 All AJA Mini-Converters are covered by a five year warranty and AJA's advanced replacement policy. If a replacement is necessary, AJA will ship a new unit immediately without the need to send the original unit back first, ensuring you are up and running again as quickly as possible.
For tri-level sync
? GEN10 1080i59.94 for 4k/UHDp59.94 and 4K/UHDpsF29.97
? GEN10 1080i50 for 4K/UHDp50 and 4K/UHDpsF25
??GEN10 1080p25 for 4K/UHDp25
? GEN10 1080p29.97 for 4K/UHDp29.97.
For bi-level sync
? GEN10 525i29.97 for 4k/UHDp59.94 and 4K/UHDpsF29.97
? GEN10 625i25 for 4K/UHDp50 and 4K/UHDpsF25