AJA OG-3G-AMA OpenGear 3G-SDI Analog Audio Embedder/Disembedder
An openGear 8-Channel analog audio embedder/disembedder, AJA OG-3G-AMA supports 3G-SDI input and output up to 1080p 60, and automatically detects and configures to the input video standard. It uses 3-pin terminal block connectors that can be set to perform audio input or output functionality.
Analog audio levels and audio embedding/disembedding are selectable, with embedding/disembedding on a channel pair basis to pass 3G-SDI input audio or embed input analog audio from 3-pin terminal block connectors.
Designed for use in high-density openGear?s 2RU frames including AJA?s OG-3-FR 2RU frame, new DashBoard Software support on Windows?, macOS? and Linux? offers remote control and monitoring of the openGear architecture and provides convenient and industry-standard configuration, monitoring and control options over a PC or local network.
Download DashBoard Software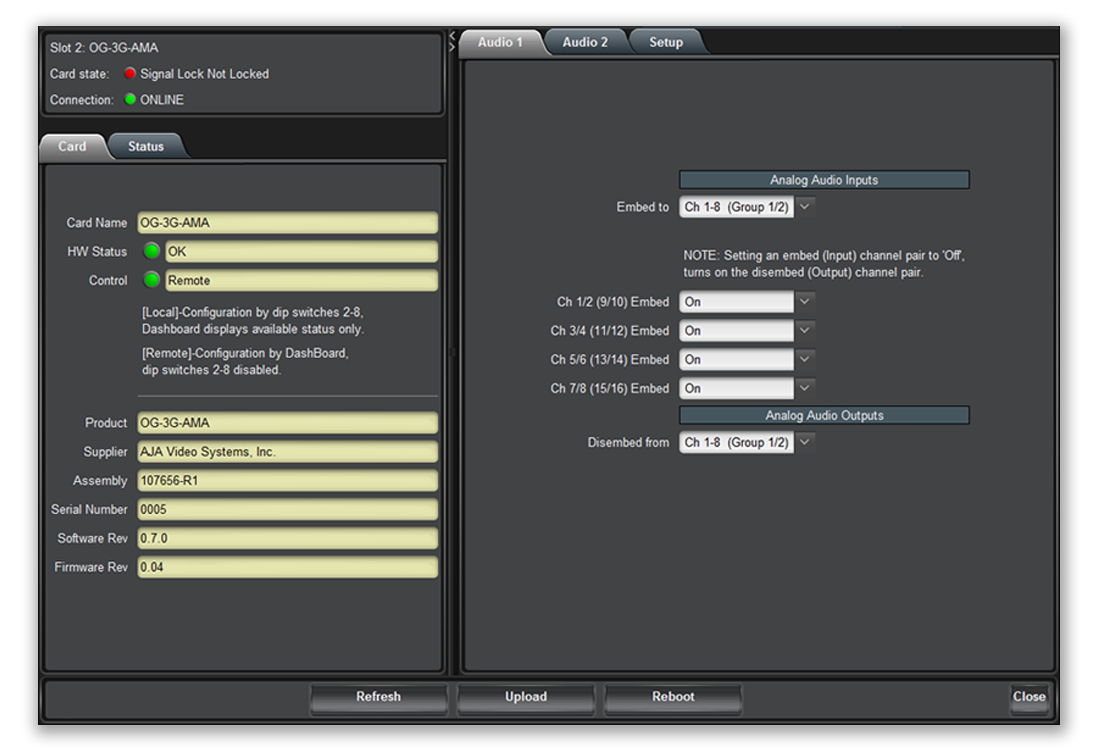 Dashboard software offers quick and convenient configuration and control of openGear cards on macOS, Windows and Linux.
For the latest DashBoard software downloads for your platform of choice, please visit:?http://www.opengear.tv/dashboard-software/#support_box
AJA OG-3G-AMA openGear Compatibility
The openGear standard ensures that AJA cards will be compatible with other openGear products from certified openGear partners. With a growing list of products, openGear is the future of rackframe products.
Flexible I/O
The modular rear panel allows custom I/O connections per card (included with individual cards).
Failsafe
The AJA OG-3G-AMA optional redundant power supply provides a secondary power source in the event of a primary power failure.
Ethernet Access
A standard Ethernet connection allows the frame to be accessed via the Dashboard application for overall frame communication. Optional per-card Ethernet access can be installed in the frame for advanced communication with compatible openGear cards.
AJA Quality Guaranteed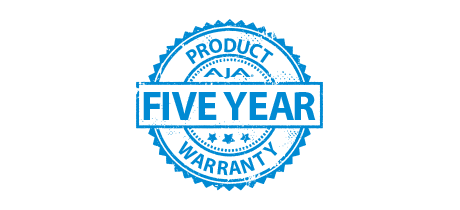 All AJA products are covered by a five year warranty and AJA's advanced replacement policy. If a replacement is necessary, AJA will ship a new unit immediately without the need to send the original unit back first, insuring you are up and running again as quickly as possible.