Atomos Ninja Stream Capture, Encode & Stream Simultaneously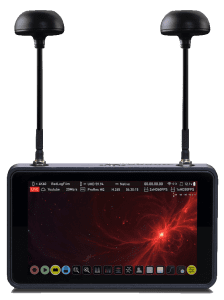 The Atomos Ninja Stream was designed specifically to overcome the challenges of today's socially distanced productions and is a 5" 4Kp60 HDR Monitor-Recorder-Streamer with HDMI I/O, 5.8G Wi-Fi, 1G Ethernet, and USB-C 3.0 to usher in a new era of streaming on productions without the need for any computers.
High-quality Log or HDR video feeds can be simultaneously recorded in both ProRes and H.265/4 to the Ninja's SSD. The Atomos Ninja Stream also allows you to output a variety of formats to the SSD, over Wi-Fi and Ethernet, and to the cloud at the same time including 4KDCI, UHD, HD, and 720p. Standards conversion allows you to up-convert and down-convert between resolutions as well.
Live distance production starts with the 5.8G Wi-Fi, allowing H.265 10-bit 422 HDR to be remotely monitored at up to 300m in HD or 75m in 4K. This can be received on a companion Ninja Stream, and output to any monitor over the HDMI out in 4K or instantly connected to phones and tablets for client and stakeholder viewing on-set.
Stream your own way
Atomos Ninja Stream's powerful streaming options allow for up to 8 Streams at 720p over each connection of WiFi x 1, Ethernet x 2, and USB 4G/5G* x 1 ( At 4Kp60, 4 streams can be achieved).
The network preset configurations are categorized in the menu system as One-to-One, Many-to-One, One-to-Many, and Many-to-Many. These can facilitate direct streaming to cloud platforms or to other networked devices.
One-to-One
Atomos Ninja Stream Stream up to 4Kp60 10-bit HDR quality, direct to Cloud, Computers, Apple TV, iPhones, iPads, Android devices** or another Ninja Stream.
Many-to-One
Quad-view mode for directors, allowing multiple Ninja Stream sources to be viewed from a single Ninja Stream for monitoring.
One-to-Many
Stream from one Ninja Stream to other devices over Wifi, Ethernet, and 4G/5G* simultaneously.
Many-to-Many
Access any device from any connected device on set – Cloud, Computers, Apple TV, iPhones, iPads, Android devices** or another Ninja Stream.
* 4G/5G mobile network connections require a phone or USB Mobile Network Dongle.
** App required to receive the stream.
Simultaneous Codec Recording
Atomos Ninja Stream Record an editing codec like Apple ProRes HQ whilst recording an H.265 or H.264 proxy version at the same time. Both the edit and proxy files will share file names and timecodes to facilitate the proxy workflow in post-production.
The 10-bit H.265 file provides excellent image quality with a small file size, whereas the 8-bit H.264 file provides compatibility with legacy consumer and video equipment – yes you can monitor on your 2010 iPhone or Android device.
The excellent image quality is maintained on the disk, and small file sizes mean you can share or deliver your files immediately after a shoot in their pristine form. Uploads are fast, and viewing compatibility is high on the receiving device.
Monitoring and Recording
In addition to all of these incredible features, you also have all of the amazing features of the award-winning Ninja V, which gives you a rock-solid monitor recorder that records affordable SSD media with class-leading high-brightness HDR monitoring technology.
The Atomos Ninja Stream 5.2" 1920 x 1080 LCD IPS screen boasts 1000nits output for daylight use, whilst the AtomHDR engine allows users to see Log images in High Dynamic Range or load creative LUTs at the touch of a button. In terms of scope,
Ninja Stream gives you all the critical monitoring tools you need, including histogram, false color, focus peaking, 1x and 2x zoom magnification, waveform, RGB parade, Vector scope, zebra, Cine frame guides, anamorphic de-squeeze and more.
The scopes can be used during playback for critical footage review and both playout and loop-through is possible for review on larger screens. The build quality is what you would expect from Atomos with an Aluminium body and active cooling system on board to ensure you are never let down in the field.
Atomos Ninja Stream allows you to record up to 4Kp60 in either Apple ProRes (Proxy, LT, 422, HQ), H.264 (up to 8-bit), or H.265 (up to 10-bit). These compressed codecs give users more flexibility with recording times and reduce the media cost during capture, backup, and archiving.
Related Products
Other Site