Atomos NINJA V
The Atomos Ninja V 5-inch is a compact, portable, and professional video recording and monitoring device that provides high-quality video recording and monitoring capabilities in a compact and portable form factor. It features a 5-inch touchscreen display and supports a range of video formats, including DCI 4K, UHD 4K, and HD, making it a valuable tool for videographers and filmmakers who need to capture and monitor their footage in real-time. Additionally, the Atomos Ninja V includes advanced tools for color grading and image analysis, making it a powerful and versatile device for capturing, recording, and monitoring video footage. The device provides a range of input and output options, making it compatible with a wide range of cameras and recording devices, and its compact size and long battery life make it a great choice for on-the-go shooting.
With its advanced features and user-friendly interface, the Atomos Ninja V is an excellent choice for videographers and filmmakers who want a high-quality video recording and monitoring device that is both compact and portable, and that provides the tools they need to capture and monitor their footage with confidence. Whether you are shooting a short film, a music video, or a documentary, the Atomos Ninja V provides the versatility and flexibility you need to create professional-quality video footage.
Atomos NINJA V 5-inch, 4Kp60 10bit, 1000nit portable monitor/recorder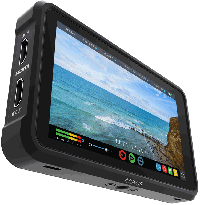 Atomos NINJA V stealthy, 5-inch, 4Kp60 10bit HDR daylight viewable 1000nit portable monitor/recorder. Perfect for Mirrorless, DSLRs, and Gaming.
A record like a Ninja!
Record up to 4Kp60 10-bit HDR video direct from your camera's sensor, over HDMI 2.0. Store edit-ready ProRes or DNxHR on affordable SSD drives and bypass your camera's internal compression and record time limits. A tiny 1TB AtomX SSDmini will give you 2.5 hrs of 4K recording.
The SSD … made Mini!
The new AtomX SSDmini is a little over 1/4 inch tall and 3″ long. It is also 20% shorter than traditional SSDs, yet keeps the standard SATA III connector. It is backward compatible with previous Atomos drives by adding a clever extension handle. These tiny, slimline SSDs are a true innovation and our close drive partners Angelbird, G-technology, and Sony are all making custom versions for your Ninja
Small Monitor made perfect
The Atomos NINJA V stunningly bright 5.2-inch 10-bit HDR monitor has an astounding 1,000 nits of output. It's a sleek 1 (2.5cm) aluminum body, is crafted for maximum durability, weighs in at just 11oz (320g), and attaches to any camera rig easily.
HDR/SDR perfection every time
The Atomos NINJA V screen displays a stunning 10+ stops of dynamic range in real-time from Log/ PQ/HLG signals. Clearly see your images in daylight on the near edge-to-edge anti-reflection screen. The display can be calibrated for perfect color accuracy every time, with playout to HDR or SDR TV sets.
Record HDR Games
Atomos NINJA V 4kp60 or HDp240 Game Recording just became fun and simple from any HDMI gaming unit. Place the Ninja V in between your unit and the TV, and record for hours to off-the-shelf SSD drives. Auto HDR flags mean the perfect TV setup every time! Show off your skills or check your game development on the most stunning video recorder ever built!
AtomOS Tools and Pocket Size Playback
AtomOS gives simple tools for accurate setup and one-touch operation, ensuring a great recording every time. Of course, a recording isn't 100% complete until checked; AtomOS gives speedy playback, slow motion, and frame-by-frame analysis for instant review.
Endless Open Expansion
Enhance the Atomos NINJA V through the in-built modular expansion slot. Bi-directional high-speed video, audio, and power are available. Expansion modules will dock onto the battery slot of the unit and offer advanced features.
Key Features of Assimilate PlayPro:
– A responsive camera format player + transcoder software
– Supports pretty much any RAW codec out there and can export to ProRes, H264, and H265. it's not only for ProResRaw users.
– It can do basic color correction, many did not know that it internally supports changing White balance, ISO gain, and Exposure offset with ProRes RAW, the user then can use this to adjust the perimeters before transcoding to ProRes 444 for example to DaVinci or any NLE.
Related Products
Other Site
Indhu UC added on 03 Feb 2023