Atomos Shogun CONNECT Portable Monitor & Recorder
Unbeatable in the Field
Atomos Shogun CONNECT is a powerful device designed for professional video production, perfect for digital cinema, mirrorless, and DSLR cameras. The device provides an all-in-one solution for monitoring, recording, and post-production workflows, making it an ideal tool for video production teams.
One of the key features of Shogun CONNECT is its ability to monitor and record up to 8K HDR sources. This is achieved through its professional video connectivity, which includes 12G-SDI and HDMI 2.0 inputs, allowing for easy integration into any production workflow. The device also features AtomOS tools, which allow you to fine-tune every shot to achieve the perfect image.
In addition to monitoring and recording, Shogun CONNECT also offers a range of professional recording options, including Apple ProRes RAW, Apple ProRes, Avid DNxHD/HR, or HEVC (H.265). This ensures that you are able to produce high-quality, professional-grade content that meets your project's requirements.
Another key feature of Shogun CONNECT is its support for Atomos Cloud Studio, a cloud-based post-production platform that enables you to collaborate with other creatives and editors on your project. With Atomos Cloud Studio, you can access your recorded content from anywhere and make changes in real-time, without having to transfer files or worry about storage limitations.
The device also features a 7-inch 2000nit screen, making it easy to view your footage even in bright outdoor environments. The screen is also adjustable, allowing you to tilt it to the perfect viewing angle for your shot. In addition, the device includes loop-through and cross-conversion functionality, making it easy to switch between different video sources and outputs.
In conclusion, Shogun CONNECT is a powerful and versatile device that offers a complete solution for monitoring, recording, and post-production workflows. Whether you are a professional video producer or just starting out, Shogun CONNECT is the perfect tool for capturing and producing high-quality, professional-grade content.
Atomos Shogun CONNECT combines portable monitoring and professional RAW recording, with support for integrated and cloud-based workflows.
Shogun CONNECT builds on the pedigree of the ground-breaking Shogun product line. Every detail has been redesigned from the ground up to make Shogun CONNECT the most powerful and versatile device ATOMOS has ever created.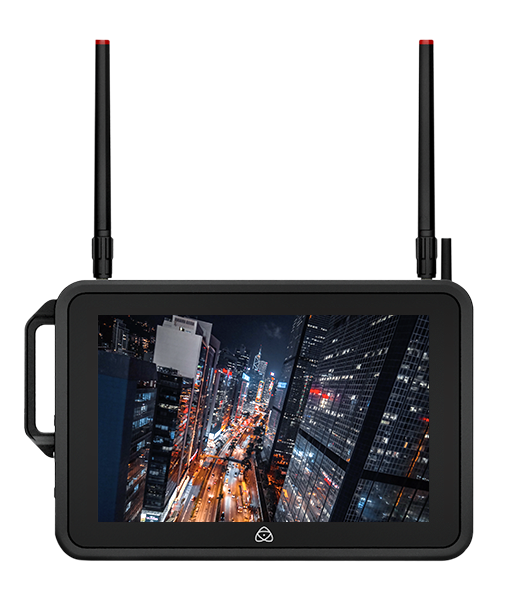 Featuring a super bright 7-inch 2000nit screen and multiple recording options, Shogun CONNECT provides a premium experience for HDR monitoring and RAW recording. In addition, it includes loop-through and cross-conversion functionality via its 12G SDI-IN and OUT interface. Shogun CONNECT supports SDI RAW inputs up to 6K at 30fps. It can simultaneously loop out standard YCC video via SDI and HDMI to multiple non-RAW compatible devices.
ATOMOS devise, Shogun CONNECT combines high-quality monitoring and many different industry-standard recording formats. It also transforms digital cinema, mirrorless, and DSLR cameras into devices that support a range of advanced cloud-based workflows.
Redesigned Touchscreen
The new 7-inch, daylight-viewable, highly-responsive Super Atom IPS touchscreen is perfect for outdoor use, even in direct sunlight. All the controls are there to perform the adjustments necessary to allow Shogun CONNECT to function equally well in darker environments.
Compact and Versatile
From individuals to large-scale cinema productions, Shogun CONNECT has been built to fit into any camera rig. It features a versatile mount that can be adapted to suit different industry-standard equipment from a wide range of manufacturers. Once locked in place the mount is highly secure and offers anti-rotation settings, so you can trust Shogun CONNECT to remain in place at all times.
A Complete Monitoring Toolbox
Shogun CONNECT offers a comprehensive range of monitoring tools including a waveform, focus peaking, false color, and frame guides to help you get the composition and exposure exactly right. The Atomos software is so easy to use and the control it provides over your images for exposure, framing or focus.
Waveform
RGB Parade
Vector Scope
Tap to Zoom
Peaking
False Color with IRE scale
Zebras
Isolate Color Channel
Cine and Social Frame Guides
Safe Areas SMPTE Frame
Grid Markers
Anamorphic De-squeeze
Display Flip Vertical
Frame Grab
Onion Skin Overlay
Powered for the Future
Shogun CONNECT is built around the latest ATOMOS silicon, the AtomIC3. The processor provides all the performance to handle the demands of the very latest cameras. It can manage higher frame rates and increased resolutions. Currently, the device supports the RAW output of various cameras up to 4K at 120fps via HDMI or SDI, with 8K ProRes RAW recording of up to 30fps exclusive to certain cameras.
Wireless Remote Control
The AtomRemote app for iOS and macOS offers an array of external controls for Shogun CONNECT. The app enables you to perform a range of configuration tasks and operations up to 15 meters away from the device via Bluetooth LE. Input options include the ability to define camera connections, select Gamma/EOTF, and adjust Gamut settings. For monitoring, AtomRemote can be used to control playback, choose monitoring modes, apply custom 3D LUTs, or view image analysis tools including exposure and focus. Output controls include options for 4K to HD, LUT preview, and HDR output.
Wireless Timecode
ATOMOS AirGlu adds wireless timecode, sync, and control technology to Shogun CONNECT. AirGlu locks multiple ATOMOS devices or compatible cameras, audio recorders, and software applications together so that they share the same frame-accurate timecode. It is also able to relay recording, battery status, and disk capacity information to the server unit. Any AirGlu device can act as the server unit, which means you'll no longer need a huge budget or get involved in time-consuming post-production workflows to produce perfectly synchronized, multi-camera video.
Supported Resolutions & Frame Rates
To save space and support longer recordings, many cameras record compressed 4:2:0 8-bit video internally. If the camera is able to output video via HDMI, the quality can often be preserved in a 4:2:2 8-bit or 10-bit format. Shogun CONNECT can record more color information and immediately add value to your production with your existing camera rig. Additionally, if you're shooting Log footage, the ability to bypass internal compression will offer the best possible dynamic range. Shogun CONNECT is designed to maximize the quality of your videos and allow you to extend every aspect of your creative vision.
Shogun CONNECT also includes 12G-SDI input, the standard on high-end cinema cameras, including the Sony FX series, Panasonic EVA1, and Canon EOS C series. The robustness and utility of SDI is critical for the productions that rely on it. SDI RAW provides the ultimate experience in terms of flexibility and quality, which makes Shogun CONNECT the ideal choice for big-budget filmmakers around the world.
Professional Codec Support
With flexible options for industry standard formats and RAW codecs, Shogun CONNECT records visually lossless "hero" files that are ready for editing and proxy/sharable files that look great but are quick to upload. Shogun CONNECT is designed to be versatile and meet the requirements of your workflow. ATOMOS understands the value of being able to select the format, quality, resolution, frame rate, or file size that best suits the needs of your production.
HDR & LUTs
The 7-inch HDR touchscreen on Shogun CONNECT ensures that you always see an accurate representation of your image. You can check exposure and focus, apply custom LUTs, and zoom the picture to examine specific details. The tools are designed to provide confidence that what you see is what is recorded.
Shogun CONNECT supports popular Log formats from ARRI, Canon, Fuji, JVC, Nikon, Panasonic, RED, and Sony. These can be used to preview SDR or HDR LUTs in real time. You can load your own custom LUTs in .cube format into any of the 8 LUT slots for monitoring, loop out, or burnt into the recording. Simply select LUT (*.cube) files from the removable SSD.
Record without Limitation
The ability to record up to 8K using advanced edit-ready formats including ProRes RAW, ProRes and DNxHD/HR requires fast, robust, and expansive storage. Shogun CONNECT supports removable SSD drives, which provide the space and sustained performance to meet these needs. AtomX SSDmini drives are more compact than standard SATA SSDs and offer an affordable alternative to an SD card of similar capacity or performance. They support up to 4TB storage, sequential read speeds of up to 550MB/s, and write speeds of up to 500MB/s. The AtomX SSDmini drives are able to record up to 150 minutes of 4K ProRes. Measuring 8cm long, 7.5cm wide, and weighing as little as 88g, the custom-built drive neatly fits into the Shogun CONNECT without impacting the overall footprint of the device.
There is an optional SSDmini adaptor that allows CFAST II cards to be used, enabling you to recycle older media cards or align them with your camera media. Alongside SSDmini we also qualify a range of 2.5-inch SSDs that can be used in conjunction with the MasterCaddy III adaptor in the Shogun CONNECT box.
With Shogun CONNECT the only limitation to how much you can record is the size of the SSD. A core principle of ATOMOS devices is to provide much more flexibility in terms of recording codec, resolution, and frame rate than is normally available with internal recording. SSD media also provides more GB per $ than camera media cards. This provides extended recorded times for long-form productions or recording events.
Stream from Anywhere
Shogun CONNECT supports live streaming to a range of online services including, Facebook Live, Twitch, YouTube, and custom RTMP/S. With Wi-Fi 6, Gigabit Ethernet, and the ability to join cellular hotspots all built-in, Shogun CONNECT helps filmmakers, streamers, and video content producers reach their audience from anywhere.
Indhu UC added with S on 03 Feb 23