Blackmagic ATEM Constellation 8K

Blackmagic ATEM Constellation 8K is a professional live video production switcher that provides high-end features and performance for live events and broadcast applications. It supports 8K resolution video with real-time processing, allowing for the creation of visually stunning live production. The ATEM Constellation 8K features a total of 24 inputs, including 12 12G-SDI inputs, 6 UHD-SDI inputs, 4 HDMI inputs, and 2 fiber inputs.
The switcher also includes advanced features such as Fairlight audio mixing, built-in talkback, multi-view monitoring, and support for the Camera Fiber Converter, which allows for remote control of cameras. Additionally, the ATEM Constellation 8K provides support for multiple formats and frame rates, making it suitable for a variety of production needs. It also supports advanced color correction and color grading, with the ability to use professional grading panels for real-time color correction. The switcher also includes a powerful media tool that allows for the storage of stills, clips, and graphics, and the ability to quickly access and play them out during a live production.
In terms of control options, the ATEM Constellation 8K supports both hardware and software control, with the option of using the included ATEM Advanced Panel or the ATEM Software Control. The Blackmagic ATEM Constellation 8K is a professional live video production switcher that provides the features and performance required for high-end live events and broadcast applications. With its advanced features and 8K capabilities, the ATEM Constellation 8K is a powerful tool for creating visually stunning live productions.
Features:
World's first live production switcher
Designed for Massive Live Events
Compact 2RU rack mount design
Full Front Panel Control
Massive 40 Standards Converted 12G‑SDI Inputs
24 Customizable 12G‑SDI Outputs
Includes 8K Multiview with Labels, Tally, and Meters
Professional Broadcast Talkback
Internal Media for Stills and Motion Graphics
Includes New ATEM Advanced Chroma Key in 8K
Multi Rate 12G‑SDI for HD, Ultra HD, and Native 8K
Includes Free Software Control Panel
Professional Broadcast Talkback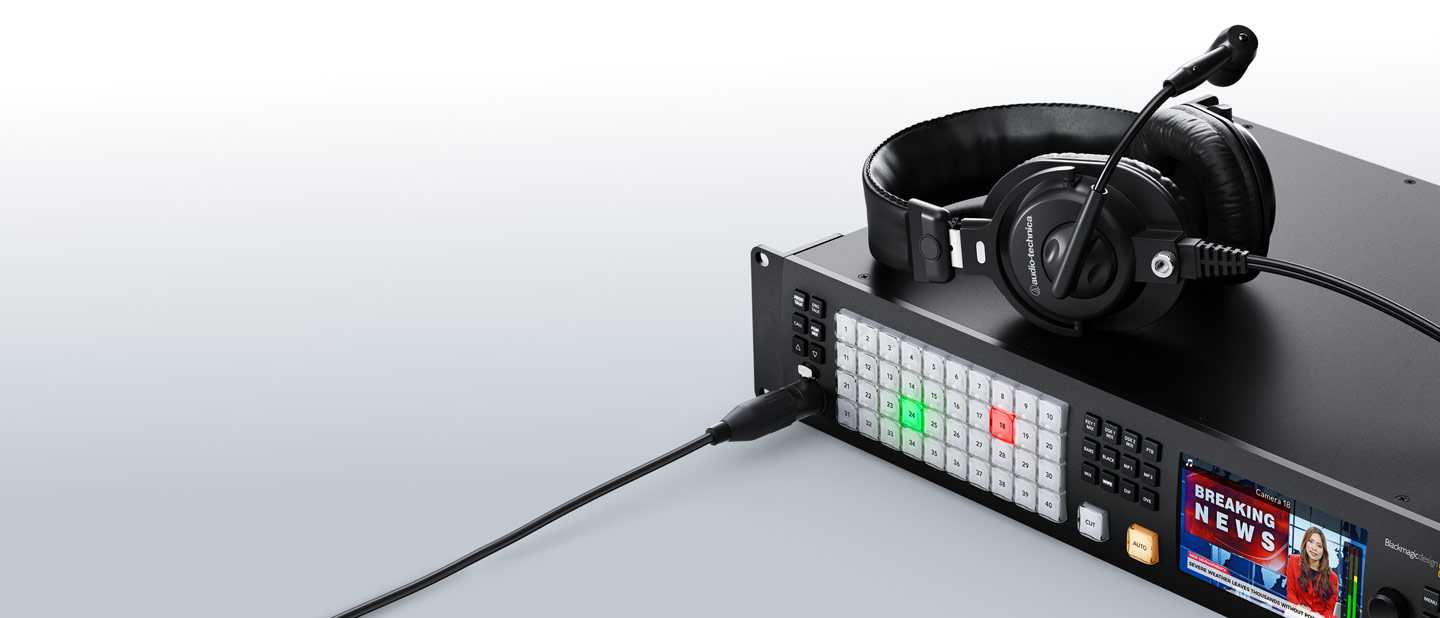 To keep crews working as a single creative team, ATEM Constellation features built-in talkback. Talkback supports a front 5-pin XLR headset connector, as well as a rear RJ12 talkback expansion connector for interfacing with industry-standard systems such as ClearCom or RTS. You get full talkback control including program and engineering loops, sidetone control for hearing the headset mic into the headphones, and program mix. ATEM Constellation also supports SDI talkback that uses SDI channels 15 and 16 for 2‑way communication with Blackmagic Design cameras. You can even use channels 13 and 14 for engineering talkback. It's even possible to mix the talkback mic into the program audio for voiceovers!
Includes Free Software Control Panel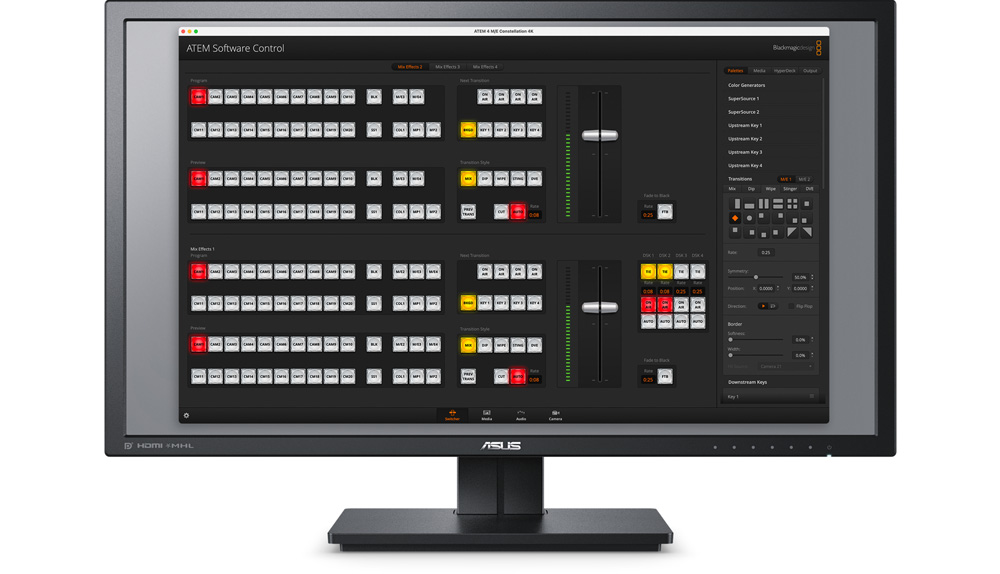 The ATEM Software Control Panel gives you total control over your switcher and is included for free. ATEM Software Control Panel features a beautifully designed interface with a visual switcher and parameter palettes for making quick adjustments. In order to work on various aspects of the event concurrently, multiple users can connect to the switcher via Ethernet. After that, You can also use ATEM Software Control to control cameras, audio mixers, media, macros, and HyperDeck disc recorders. All media is backed up from the media pool, and you can save the switcher's complete state as XML files. Plus you can run the software on Mac or Windows.
ATEM Live Production Switchers:
ATEM 1 M/E Production Studio 4K
ATEM 2 M/E Production Studio 4K
Indhu UC added on 31 Jan 2023
M by Sankari 27 Feb23