Blackmagic ATEM Mini Low-cost Multi-Camera Live Production Switcher
This model has been replaced by Atem Mini Pro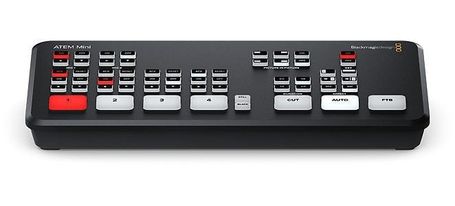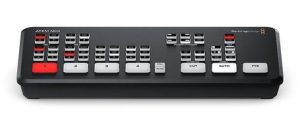 Gaming streamers and video content creators used to find it hard to find a device that lets them stream their content while having their faces displayed simultaneously. In the early years of video streaming platforms like YouTube, content creators had limited options for their content due to hardware limitations. but when live production switchers like the Blackmagic ATEM Mini came along, the game was drastically changed.
With the ability to accommodate 4 sources simultaneously, the ATEM Mini allows users to mix and match different sources. Video makers can use this live production switcher to capture scenes from different angles, and gamers can utilize 2 out of 4 HDMI inputs for the camera and the game console, respectively.
Design
The Blackmagic ATEM Mini has an interface that is easy to understand and operate. If ever you get confused about what button does what, you can always consult your handbook for the details. The rubber buttons are a nice touch, as they don't feel as stiff as plastic ones, and they light up when the corresponding buttons are pressed.
Looking at the back of the live production switcher, you will see 4 HDMI input slots, 1 HDMI output slot, an ethernet port, and a USB-C output. You can also find two mic inputs on the back panel.
All of these features are packed within a compact and sleek frame that allows you to carry your live production switcher anywhere without having to worry about encumbrance. Source
Performance
The Blackmagic ATEM Mini has all the features you have come to expect from a live production switcher and then some. With various effects like fades, cut, and mix at your disposal, your videos will have a unique feel to them. This device also has a maximum resolution of 1920×1080, providing you with crisp and clear 2k quality. A picture-in-picture mode is also present, making it possible for video game streamers to broadcast what they're playing while their faces are on full display as well.
Extra Features
The Blackmagic ATEM Mini also comes with extra features that make post-production easier for you. In most cases, post-production methods like video and audio editing, including video effects, are necessary to add that extra flair to your projects, but all of those things can be accomplished by the ATEM Mini. More than just a live production switcher, the ATEM Mini accomplishes different tasks on its own. Here are the extra features that you will get when you purchase the Blackmagic ATEM Mini: 
With the built-in audio mixer, you can customize the audio quality of your projects. Not satisfied with the bass or the treble of the speakers?
You can adjust those levels manually and get a sound that is uniquely yours.
Some videos require logos and graphics for added flair. With the ATEM Mini, you can add these things to help improve your videos and give them that extra pop. By offering you an extra layer where you can put your graphics on, downstream keyers don't disrupt the actual video. This feature can be fully utilized within the ATEM Mini. 
Various transitions are at your disposal with this live production switcher. Easily transition from one camera to the next, or add excellent graphics and effects like mix, dip, wipe, and cut in between, giving you amazing effects to add to your live stream or presentation.
Applications
Live streaming is one of the fastest-growing industries today, with live streamers like Ninja, xQc, and Tfue having a massive following and an equally massive revenue as well. For streamers, having a picture-in-picture function is essential since viewers like to watch the gameplay or the video being presented alongside seeing the streamers' reactions. The Blackmagic ATEM Mini allows users to do just that. With its crisp picture-in-picture feature, you too can stream like a pro. Live production switchers like the ATEM Mini also excels in giving ordinary presentations a professional look. With the ability to switch between four cameras with just a button press, you can offer different camera angles to the viewers.
Perhaps you're hosting a video podcast? You can also use the picture-in-picture feature with the switcher to display your guest's camera, sparing you from having to edit these switches in post-production. With a plethora of effects at your disposal, every stream can be a unique experience.
The audio mixer feature is also an excellent addition as it gives you complete control over the audio quality. Most broadcasts have a muffled sound, and that problem can be quickly fixed with just a few adjustments on the audio mixer.
Conclusion
Compact, packed with tons of features, and can handle multiple functions, the Blackmagic ATEM Mini is an essential part of any streamer's tools. If you're looking for a device that will significantly improve your efficiency while working on your presentations or live streams, look no further than the Blackmagic ATEM Mini.
ATEM Mini Family product
ATEM Mini Pro Multicamera Live Production Switcher
ATEM Mini Pro ISO Live Production Switcher
ATEM Mini Extreme Live Production Switcher
ATEM Mini Extreme ISO Live Production Switcher
ATEM Streaming Bridge Switcher and Converter
Other Reading Material
Affordable Multi-camera Live Production Switcher
Other Website
Modified Steven 27/2/23