Blackmagic ATEM Television Studio 4K8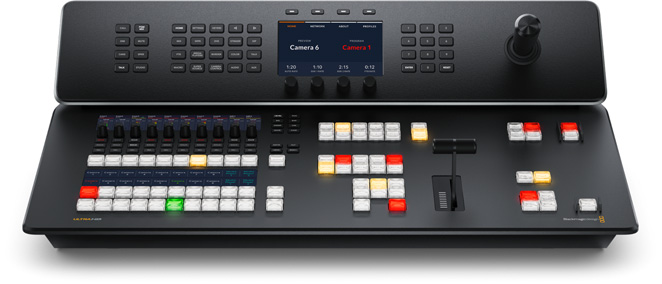 Blackmagic ATEM Television Studio 4K8 is a powerful Ultra HD live production switcher with a built-in broadcast control panel. Get a fully featured broadcast quality live production studio with 8 12G-SDI inputs, 10 12G-SDI aux outputs for external recorders, 4 port 10G Ethernet switch, built-in streaming, master recorder, multiview, USB webcam support, 2 DVEs, SuperSource, 4 ATEM Advanced Chroma Keyers, 2 media players, talkback and more. Plus it includes a whole television studio of features such as hardware streaming, recording, audio mixer, talkback, multiview, and optional internal network shared storage.
The ATEM Television Studio combines a switcher and control panel into the same unit, so it's highly portable. The front panel includes buttons for selecting sources, triggering transitions, and setting up video effects. Plus the controls are the same high-end type used on expensive broadcast switchers.
With 8 SDI video inputs, ATEM Television Studio lets customers connect multiple cameras for different views of the performance. Video cameras with SDI outputs, such as Blackmagic Studio Camera or Blackmagic URSA Broadcast G2, are much better quality as they have better low-light performance and use professional lenses. All video sources will re-sync to the switcher, even if they operate at different video standards. Everything just works so setup on location is easy and customers don't have to worry about technical problems.
One of the benefits of ATEM Television Studio is the range of professional built-in video effects. The t-bar fader can be used to transition video effects, or customers can do the transition automatically by pressing the auto button. There is a wide range of SMPTE wipes included, plus fun DVE effects that slide or squeeze the image off the screen when transitioning between video sources.
ATEM Television Studio 4K8 also includes a joystick for positioning the DVE for custom picture-in-picture effects. With full 3 Axis control, customers can adjust the X, Y, and Z positions of wipe patterns and position the DVEs. The joystick allows the DVE position to be set precisely and rotating the knob will change the DVE size. Scale the size, and position up, down, or left and right for the perfect picture-in-picture effect. Plus, customers can also use the joystick to move the DVE and enter start and end keyframe screen positions for their own customized animated DVE moves.
The built-in media pool stores broadcast-quality graphics and animations that can be played back using the built-in media players. For the highest quality, all media supports RGB colorspace with an alpha channel, allowing transparency and layering. The media pool can hold 20 HD or Ultra HD resolution stills. With the new ATEM Television Studio 4K8 model, motion graphics clips for animations and stingers can be up to 800 frames in 720HD, 400 frames in 1080HD, and 200 frames in 2160 Ultra HD.
ATEM Television Studio is perfect for news and on-set presentation work because it features 4 ATEM Advanced Chroma Keyers for green screen keying effects. The chroma keyers are incredibly powerful and include features such as a color picker to sample background colors for the automatic generation of the key parameters. Customers get precise controls for edge and flare, and there is even a foreground color corrector so customers can match the foreground and background layers for seamless compositions. The keyer can also be used for the pattern and DVE keying.
In addition to the DVE in the ATEM Television Studio, there is also a powerful SuperSource multi-layer processor. SuperSource gives customers 4 extra DVE layers plus a background layer, all layered together as an additional input source. SuperSource is perfect for doing multiple picture-in-picture displays with people being interviewed because customers can set up the effect so the viewer can see each person being interviewed all within a stylish graphic.
The Blackmagic ATEM Television Studio 4K8 has 8 12G-SDI inputs. Each SDI input has a dedicated standards converter so any 720 HD, 1080 HD, or 2160 Ultra HD input source will be converted to the standard of the switcher.
The ATEM Television Studio includes up to nine SDI program outputs so customers get enough connections to send a separate program return feed to all of their cameras. That's important because the SDI program return is used to send tally, talkback, and control information back to the cameras. Customers also get dedicated aux outputs for driving stage monitors and master recorders. There's also a dedicated 3G-SDI and HDMI output for the multiview.
With a built-in Fairlight audio mixer, ATEM Television Studio makes it possible to do complex live sound mixing. The internal mixer features enough channels for all SDI inputs, as well as extra channels for the XLR, RCA, and MADI inputs. Each input channel features the highest quality 6-band parametric EQ, compressor, limiter, expander, and noise gate as well as level and pan controls. The audio mixer is extremely powerful and it can be adjusted from the front panel using the dedicated audio mixer controls and LCD.
ATEM Television Studio includes a professional multiview that lets customers see all video inputs, previews, and programs on a single SDI or HDMI monitor. Each camera view includes tally indicators so customers know when each source is on-air, plus each view has custom labels and audio meters. Customers can fully customize the multiview layout with up to 16 simultaneous views.
ATEM Television Studio has a built-in hardware streaming engine for live streaming to a global audience. That means customers can live stream to services such as YouTube, Facebook, and Twitch in better video quality and without dropped frames. Streaming works using the Ethernet connection to the internet, or customers can connect a smartphone to use mobile data.
You can use any video software with ATEM Television Studio because the USB connection will emulate a webcam. That means customers can plug into a computer and use any video software that works with a webcam. That guarantees full compatibility with any video software and in full resolution 1080HD quality.
ATEM Television Studio supports recording to external USB flash disks. Or if an optional M.2 flash disk is installed, customers can record directly to internal network shared storage. The internal storage plus any external USB disks will be available to share over the local Ethernet network so other people can work on post-production tasks such as editing, color correction, and graphics preparation. All recordings are in H.264 format with AAC audio for broadcast quality video and small file sizes.
The ATEM Software Control app unlocks the hidden power of ATEM Television Studio by allowing access to all the features in the switcher. ATEM Software Control features a visual switcher user interface with parameter palettes for making adjustments. The software lets customers live switch, mix audio, color correct in the cameras, and manage media. Customers can also build and run complex macros from the software.
If users are building a podcasting studio or customers need more microphones, then the ATEM Microphone Converter allows audio input expansion. It connects to the ATEM Television Studio using the MADI port, so there's no complex setup and customers can daisy chain units to add more inputs. Each converter has 4 analog inputs that are mic/line selectable and have phantom power. The design features amazing quality with an extremely low noise floor of -129dBV, a dynamic range of 131dB(A), low distortion of 0.002%, and uniform tolerances across all channels. It even uses 8 separate ADCs on each input to collectively extend the dynamic range. Plus it has a fun HDMI monitoring output with scrolling audio waveforms.