All You Need To Know About Hollyland Wireless Video MARS 400S PRO
The Hollyland Mars 400S Pro is a powerful and versatile wireless video transmission system designed to meet the demands of professional videographers and photographers. With a sleek and industrial design, this device provides reliable and high-quality video transmission with ultra-low latency of only 0.08 seconds.
One of the standout features of the Mars 400S Pro is its transverse design, which provides a lower gravity center and makes the device much more stable and convenient to install. The integrated cold shoe also makes it easy to mount the device on a tripod or other support system.
The Mars 400S Pro supports both SDI and HDMI inputs on the transmitter and SDI and HDMI outputs on the receiver, making it compatible with a wide range of professional video cameras and devices. The device also offers multiple fan modes, including Off, Low Speed, and Auto, to accommodate different shooting environments and applications.
Another key feature of the Mars 400S Pro is its support for direct video for live streaming. This allows users to live stream their video directly from the device without the need for any additional software or hardware. This makes it an ideal solution for video professionals who want to share their content with a live audience.
The device also includes an optimized monitoring feed, with a raised data rate from 8 Mbps to 12 Mbps for high-definition monitoring quality. Users have the option to monitor their video feed through the device's receiver, or with up to 4 phones and tablets using the professional HollyView app. The app also features channel scan and firmware update functions for easy and quick updates.
The Mars 400S Pro supports multiple power options, including 6-16V DC power options, or Battery Power supply 6-16V DC. This makes it easy for users to power the device in a variety of shooting environments.
In conclusion, the Hollyland Mars 400S Pro is a highly advanced and capable wireless video transmission system that offers professional-grade performance and features. With its sleek design, ultra-low latency, support for direct video for live streaming, and a range of other features, this device provides users with a seamless and professional video transmission experience. Whether you are broadcasting live events, conducting interviews, or simply capturing footage on the go, the Mars 400S Pro is the perfect solution for your video needs.
Precision is one of the main aspects of shooting top-notch quality video, and in order to achieve that precision, a videographer undoubtedly needs the Hollyland Mars 400S PRO SDI/HDMI Wireless Video Transmission System. When it is about getting the perfect shot, you definitely need more help from your camera, and the Hollyland wireless video Mars 400S PRO SDI/HDMI provides you with all the support you need.
Since it enables a person to live stream the video or the shot they are taking on other devices, the shot is being analyzed well; the small details are checked, so the outcome eventually ends up being flawless.
The camera cannot alone do the wonders you need in your work; apart from your skills, you definitely need some support in order to shoot professional-level, and amazing-quality videos and the Hollyland Mars device gives you exactly that.
Now let's see the features of the device in detail.
Transmitter and Receiver set.
The HOLLYLAND MARS 400S PRO SDI/HDMI Wireless Video Transmission System comes with a transmitter and a receiver set. This helps in live streaming the video being shot on other devices easily. It increases the possibility of life analyzing a video on the spot. The transmitter of the HOLLYLAND MARS 400S PRO SDI/HDMI device enables both HDMI and SDI inputs, and similarly, the receiver provides SDI and HDMI outputs. Both the receiver and the transmitter come with two antennas for better connectivity and a stronger line-to-line signal as well.
One can connect the HOLLYLAND MARS 400S PRO SDI/HDMI device with their Wi-Fi and set it with the camera and live to stream the videos on their computer or other devices coming with a Type C adapter. Both the transmitter and the receiver are available with a bright OLED display screen for properly monitoring the features of the device even in dark surroundings. One of the best parts of this device is that even if you do not carry your receiver, you can connect the transmitter to up to four devices and monitor the videos on them easily.
The device can transmit up to 1080p60 video.
Due to the establishment of a stronger line-to-line transmission, we can easily monitor the video shot live on the receiver. The HOLLYLAND wireless video MARS 400S PRO SDI/HDMI enables the user to stream up to 1080p60 video. The user can easily live to monitor the video being shot on other devices, be it Android or iOS. Other than that, one can connect the receiver to any device like a computer or laptop with a Type C adapter and monitor the videos being live shot.
The HOLLYLAND MARS 400S PRO SDI/HDMI enables the user to live stream the videos being shot as well. The device can be easily connected with Wi-Fi, and videos can be streamed live via the HollyView app. This is an amazing feature, especially for vloggers. They can host a watch party for the presence of this feature.
Inbuilt fans with modulations.
The transmitter of HOLLYLAND MARS 400S PRO SDI/HDMI video transmitter comes with an in-built fan, which helps in cooling the device while using it for an extensive period of time. This fan comes with three modulations: Auto, slow, and off. The fan produces no sound, which will hinder the audio of the video being shot. The receiver does not come with an in-built fan, but the design of the device enables it to cool down on its own.
Hence there will be no sound from the receiver either while live monitoring the videos. This feature amplifies the longevity of the device because the overheating of any electronic device can cause a decrement in its long life and also proper functioning.
The latency of 0.08s.
There is a minute latency in the streaming of the video on the external device where you will be monitoring the video. This precision in functionality is an amazing feature of the HOLLYLAND MARS 400S PRO SDI/HDMI Wireless Video Transmission System. Due to such a minute latency, live monitoring can be done without any hindrance. If any dispute happens while recording, it can be easily visualized and corrected instantly.
There will be a line of sight transmission for 400 ft towards the receiver and till 300 ft towards the HollyView app connected through the Wi-Fi.
Various power points.
The HOLLYLAND MARS 400S PRO SDI/HDMI video transmitter comes with more than one power connecting option. You can either get a Sony L- series battery or a DC adapter or charge it through the USB port of a power bank (Type C input). This flexibility in charging enables the user to make the most out of the device. While using if it runs out of charge, there will be an abundant amount of options to keep it going.
Sturdy design.
The HOLLYLAND MARS 400S PRO SDI/HDMI Wireless Video Transmission System is no more like the old version of the Hollyland video streamer. This comes in a flawless aluminum body and not a plastic frame like the older version. It also has a built-in cold shoe mount and ¼"- 20 mounting thread. The cold shoe mounts are also color-coded to identify whether it is TX or RX.
SLEEK INDUSTRIAL DESIGN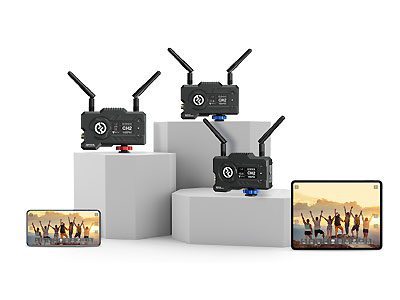 Lower Gravity Center, and Much More Stable & Convenient Installation with the Brand-New Transverse Design and the Integrated Cold Shoe
0.08S LOW LATENCY

400ft Reliable Wireless A&V Transmission with Only 0.08S Latency
BOTH SDI & HDMI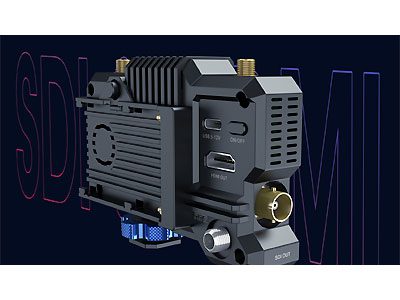 SDI & HDMI Inputs on TX and SDI & HDMI Outputs on RX
MULTIPLE FAN MODES
Off, Low Speed & Auto Fan Modes for Different Applications and Better Shooting Experiences
DIRECT VIDEO FOR LIVE STREAM
Video Feed Straight Out of RX for Live Streaming Without Further Encryption and Decryption via a Video Capture Device
OPTIMIZED MONITORING FEED
Data Rate Raised from 8M Bps to 12M Bps for High-Definition Monitoring Quality
MULTIPLE MONITORING OPTIONS

2 RX – 0 App 1 RX – 2 APP 0RX – 4 App
MULTIPLE POWER OPTIONS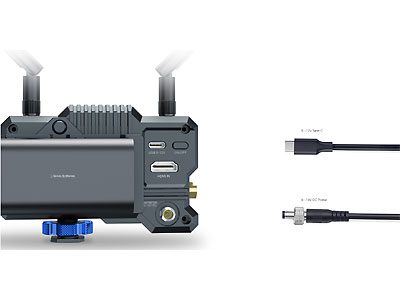 5~12V Wide Voltage Power Supply with Type-C Charging Option Added to Various L-Series Batteries and 6~16V DC Power Options
PRO APP MONITORING

Supports up to 4 Phones & Tablets with Real-Time Monitoring with Professional Monitor Features, such as Waveform, Focus Peaking, Zebra, Zoom In/Out, 3D Luts, etc.
CHANNEL SCAN & FIRMWARE UPDATE ON APP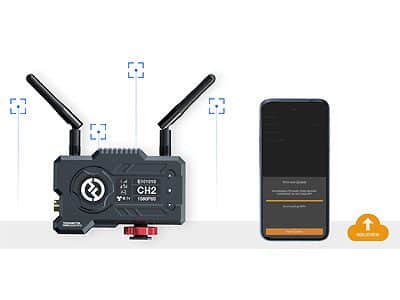 Optimal Channel A Click Away on RX and the HollyView APP, and Easy & Quick Firmware Update on the App
Family Products
MARS 4K
MARS 300 PRO Standard
MARS 300 PRO Enhanced
Others Site
MARS 400S PRO
Other Reading Material
Why chose Hollyland wireless video transmission system
MARS 400S PRO is available at
Philipines ( Manila ), Indonesia ( Jakarta ), Cambodia, Laos, Myanmar (Burma), Thailand, Vietnam, Singapore, India, and Malaysia
Sankari UC added on 6 Feb 2023
Add-R-Ind-23.11.23