Hollyland SOLIDCOM C1 Pro Dual-mic ENC Intercom System -Support up to Max 8 users
To better fit the demands of teamwork under noisy environments, Hollyland introduces the brand new Solidcom C1 Pro wireless intercom system with FOUR KEY UPGRADE
Environmental Noise Cancellation (ENC)
PTT Function
Better Wear Experience & Durability
Upgraded Hub Station
Inherited the outstanding lightweight features of Solidcom C1, and combined with the above improvements of functions and experience, the Solidcom C1 Pro is the best fit for production teams requiring reliable and cozy communication experience in real-time, such as church production teams.
The Solidcom C1 Pro, Hollyland's first-of-its-kind full-duplex wireless intercom headset system featuring dual-mic Environmental Noise Cancellation (ENC) technology, is incredibly lightweight and easy to use. It is a true game changer with built-in ENC, ideal for production teams working in loud environments where exceptional communication clarity is essential. This new-generation headset system features advanced DECT 6.0 technology, a wideband audio range of 150Hz to 7kHz, and a reliable LOS communication range of up to 1,100ft (350m).
Dual Mic Environmental Noise Cancellation (ENC)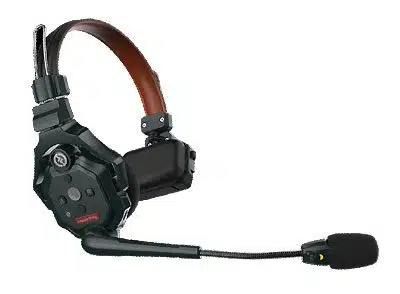 The Solidcom C1 Pro boasts unparalleled dual-mic ENC technology that delivers clear sound captured from challenging loud environments. Its directional main mic focuses precisely on the speaker's voice range, and simultaneously, the omnidirectional secondary mic collects environmental noise from different directions as noise samples. The sound signal is processed with the advanced ENC algorithm, effectively canceling the environmental noise and delivering crystal-clear sound quality.
Note: The ENC technology functions by removing the environmental noise at the speaker side, so that the listener can hear the speaker's voice clearly.
Note: You may buy additional Solidcom C1 Pro headset to increase the number of users upto 8 in a group, applicable to those who owned Solidcom C1 Pro -2S /3S /4S /6s
Dual-mic ENC technology is leveraged to deliver powerful and delicate sound quality. Equipped with a directional main microphone that captures the speaker's voice precisely, and a secondary mic that collects environmental noise from all directions evenly as a noise sample. The voice signal will be processed with the advanced ENC algorithm to make sure that the system renders a delicate sound quality even in noisy environments.
The working principle of ENC is that the main microphone records human voice and part of the ambient sound, and the sub mic records balanced environmental sound, and then the two mics are converted into digital domain signals by ADC, and the reverse signal of the sub mic s ambient sound is calculated by an algorithm, followed by The ambient sound signal in the main microphone signal is low canceled, and then the canceled sound is output. The noise reduction function is realized on the speaking side by processing the sound signal.
150Hz – 7kHz Wideband Audio with AEC
The Solidcom C1 Pro intercom system is capable of delivering authentic and clear sound even in the most demanding production environments. Its premium Acoustic Echo Cancellation (AEC) function effectively removes unwanted echo within the 150Hz to 7kHz frequency response range, bringing in more efficient teamwork.
Robust Wind Noise Removal
Troubled by wind noise in outdoor production environments? The Solidcom C1 Pro offers a versatile solution that prevents airflow from directly hitting the mic. With the Y5 felt paper designed for the main mic as the wind filter as well as the microphone cushion, you can enjoy complete peace of mind in production environments where wind noise is a major challenge.
Exceptional Simplicity for Efficiency
The Solidcom C1 Pro is ready when you are. The out-of-the-box and ready-to-go features redefine the wireless intercom system category, and its simple form factor design achieves a breadth of intuitive operations. Just switch the headset ON, place it on your head, and then begin talking with your team in a matter of seconds, so that you can focus more on efficient hands-free team collaboration.
Keep Connected Within a 1,100ft (350m) LOS Range
The transceiver built into the Solidcom C1 Pro master headset offers a reliable wireless two-way communication range of up to 1,100ft (350m). Your team can keep connected and move freely across an expansive space at major events, such as church productions, TV & film productions, live performances & events, and more.
Uncompromising Security & Stability with DECT 6.0
Designed with the DECT 6.0 technology, the Solidcom C1 Pro offers full support for secure communication by preventing people outside the system from hearing your conversation with its encryption technology.
Operating in the 1.9GHz band with a dual-antenna design scheme for each headset, the Solidcom C1 Pro enables unparalleled interference-free communication stability and clarity with a doubled user capacity on the communication channel.
Increased Portability & Durability for a Better Experience
The Solidcom C1 Pro headset is crafted using PC-ABS materials, making it incredibly lightweight—a mere 170g (6oz) with the battery included and super compact. The upgraded over-ear leather cushion better fits the human ear structure for added stability and comfort, perfect for anyone who works in challenging environments. Durable on-ear foam cushions are also provided to address different wearing preferences. Simply use them as needed and enjoy the experience of incredible portability and comfort without compromising quality.
Push to talk (PTT) for a Better User Experience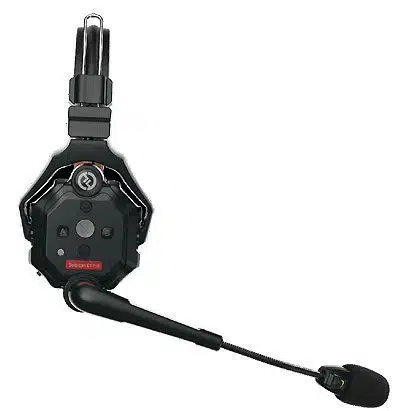 With no belt pack or base station, it offers a highly portable and hands-free coordinating experience for media production teams or any team looking for real-time non blocking voice communication in socially distanced working scenarios.
Added MUTE Button brings a more user-friendly operation experience;
Better wear experience & durability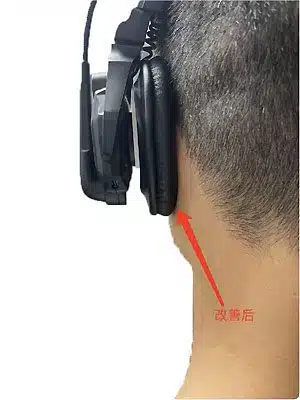 Better fit the ear with the Arc Design and better Over ear Improvement.
Stainless Steel Screw for better corrosion resistance
Hollyland Wireless Systems:
Hollyland SOLIDCOM C1 – 4S(2S/3S/6S/8S) Wireless Intercom headset system
Hollyland SOLIDCOM C1 – 8S Wireless Intercom headset system with Hub
Other Hollyland Intercom system
Solidcom C1 wireless headset
Mars T1000
Solidcom M1
Solidcom C1-8S
Syscom  1000T
2 to 4 wire converter
Add-R-Ind-23.11.23