Hollyland SOLIDCOM M1 Full-duplex Wireless Intercom Solution – Ideas for Live Event Professional inter-communication
The Hollyland SOLIDCOM M1 Full-duplex Wireless Intercom Solution is a state-of-the-art communication system designed for teams of 8pax per system who require smooth and clear group communication in even the most demanding environments. The system boasts an industry-first range of 1300ft-radius, providing an unprecedented level of communication flexibility for its users.
The SOLIDCOM M1's intuitive grouping feature is a game-changer for group communication. Setting up groups is quick and easy, with the ability to create and manage groups through the base station, Hollyland app, or web page with just a few taps. The system supports up to 3 groups, making it possible for teams to communicate seamlessly with one another, no matter their location.
One of the key advantages of the SOLIDCOM M1 is its multi-device cascade connection. The system can connect multiple devices, allowing users to communicate with one another effortlessly, without any disruptions. The full-duplex communication capability ensures that multiple team members can communicate with each other simultaneously, without having to take turns speaking.
In addition to its impressive features, the SOLIDCOM M1 is designed with portability in mind. The base station is compact and lightweight, making it easy to carry and set up on location. The belt packs are ergonomically designed and feature a comfortable fit, allowing users to wear them for extended periods without discomfort.
Hollyland SOLIDCOM M1 hands-free systems have been designed to be simple to use, light in weight, and portable, with the potential to be swiftly set up on location, complete with DC backup, in a matter of minutes.
Solidcom M1 is your go-to choice for micro-mid events with a capacity from 100 to 1000 guests, including church events, electronic field productions, exhibitions, concerts, etc.
INDUSTRY-FIRST SOLUTION TO POWER UP TO 1300FT-RADIUS COMMUNICATION RANGE
For the first time in the industry, an integrated panel antenna is inserted into the base station. Besides, Hollyland wireless intercom SOLIDCOM M1 is also equipped with a pair of external FRP antennas. Combining these 2 antenna options, Solidcom M1 significantly improves on-site work efficiency and flexibility and prolongs transmission range to a great extent.
ENHANCED AUDIO QUALITY LETS YOUR VOICE BE HEARD CRISP AND LOUD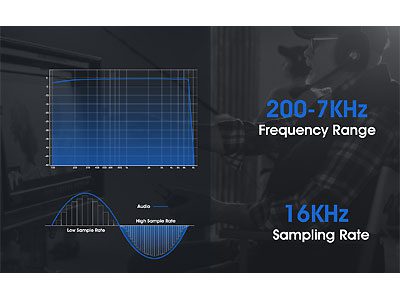 With an all-around upgrade, Hollyland wireless intercom SOLIDCOM M1 guarantees smooth and clear group communication no matter how loud and complicated the background noise is.
INTUITIVE GROUPING AT A SINGLE TAP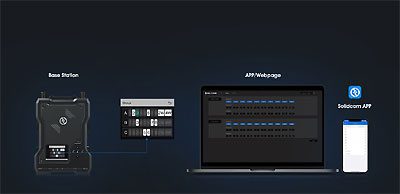 Setting up groups with Solidcom M1 is an intuitive experience. It's as easy as selecting the numbers of specific belt packs and making them a group. Either through the base station, Hollyland APP, or webpage, a group can be created and managed in seconds.
MULTI-DEVICE CASCADE CONNECTION FOR HASSLE-FREE GROUP COMMUNICATION
Fitted with 4 different interfaces (2W (XLR connector), 4W (RJ45), POE/LAN power supply, and cascading interfaces), the base station can be cascaded to multiple sets of different audio equipment only by connecting with a standard network cable or an XLR cable.
Each set of Hollyland Solidcom M1 is equipped with 8 belt packs. Simultaneous group calls for 16 people in 3 groups are made possible with 2 cascaded sets, with a standard network cable of 328ft (100m) for cascading, sufficient for staff dispatching of most events.
OUT-OF-THE-BOX CONVENIENCE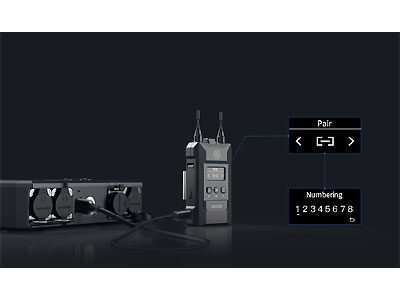 The belt packs are paired by factory default and are good to use out of the box. In the event of cross-area collaboration where changing or adding belt packs is needed, users only need to connect the belt packs to the base station via USB to Type-C cables to pair and group the belt packs.
A PLETHORA OF CHOICES FOR YOUR EARS
Hollyland Solidcom M1 comes standard with professional LEMO headphones whose microphones can be switched on by putting down the microphone boom or vice versa. The headphone also featured the Sidetone function which allows the user to hear his own voice even with the headphone on and then adjust the speaking volume in time.
SAY NO TO LOW-BATTERY ANXIETY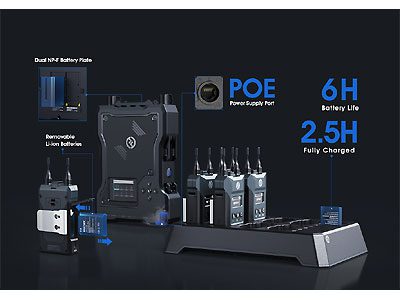 Two detachable Li-ion batteries are included in each belt pack; they may be charged separately and take just 2.5 hours to reach full capacity. The belt pack will never run out of power when utilizing the two batteries sequentially due to each battery's 6-hour runtime.
Overall, the Hollyland SOLIDCOM M1 Full-duplex Wireless Intercom Solution is a top-of-the-line communication system that delivers unparalleled communication flexibility, making it an ideal solution for teams working in challenging environments. Whether you're in the media production industry, or simply require effective group communication, the SOLIDCOM M1 is the perfect solution
New Hollyland Wireless Systems:
Hollyland SOLIDCOM C1 – 4S(2S/3S/6S) Wireless Intercom headset system
Hollyland SOLIDCOM C1 – 8S Wireless Intercom headset system with Hub
Hollyland SOLIDCOM C1 Pro Dual mic ENC Intercom system
Other Hollyland Intercom system
Solidcom C1 wireless headset
Mars T1000
Solidcom C1-8S
Syscom  1000T
2 to 4 wire converter
Other Site
Solidcom M1
Solidcom M1 is now available in the following Countries
Philipines ( Manila ), Indonesia ( Jakarta ), Cambodia, Laos, Myanmar (Burma), Thailand, Vietnam, Singapore, India and Malaysia
Sankari UC added on 6 Feb 2023
SS-add-R-17.11.23