JVC GY-HC500SPC Cam™ 1-inch Camcorder
The JVC GY-HC500SPC is JVC's highest quality and most versatile sports production camera, capable of producing professional quality coverage of sporting events complete with score overlay and game clock. Scores can be input manually with a tablet, or automatically, straight from your facility's scoreboard with Scorebot.
JVC GY-HC500SPC camera produces the high resolution lower third graphics with network quality, and overlays them on pristine video that can be recorded and streamed directly from the camera. Coaches and team managers will take advantage of the camera's unique sports metadata capability and Sports Exchange recording format–compatible with DV Sport and XOS digital platforms.
The JVC GY-HC500SPC is part of JVC's widely acclaimed CONNECTED CAM™ family of products, ensuring unparalleled connectivity while delivering the highest broadcast quality HD and 4k images.
Score Overlays and Customization for Live Streaming and Recorded Video
JVC GY-HC500SPC offers lower-third score overlays for recorded or streamed HD video output without an external CG or production switcher.
The camcorder comes with graphics pre-installed for a variety of sports, including football, basketball, baseball, football (soccer), ice hockey and others.
The overlays are controlled using a browser-equipped device such as a tablet or smartphone.
JVC's software utility lets customers upload team logos.
If desired, the overlay can be placed over the streamed video only, leaving the recorded video without graphics.
JVC has released PC application software which enables the user to store up to 30 team names and logo bitmaps within the camera.
Custom Full-Screen Overlays and Slideshows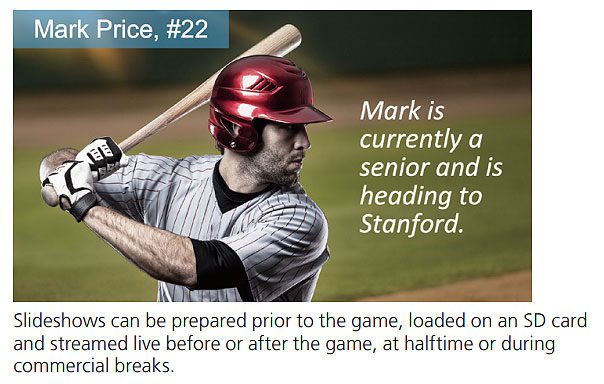 Add up to 50 full-screen custom graphics (PNG or JPG format) from an SD card to the GY-HC500SPC and store them in the camcorder for live streaming or recording in the HD mode.
Overlays and slides are a perfect way to advertise your sponsors either as banners during the game, or full-screen at halftime.
It's also a great way to introduce the team members via a pre-game slideshow.
Automatic Score Updates with Scorebot from Sportzcast

JVC GY-HC500SPC features a unique sports overlay capability with the Sportzcast Scorebot4100 Scoreboard Interface Unit. The GY-HC500SPC provides a complete end-to-end sporting event coverage system with user-personalized team name and logo. The Scorebot enables real-time scores and game sequence information updates directly from the scoreboard to the GY-HC500SPC.