JVC GY-HM250E 4K Compact Handheld Camcorder
Advanced IP network communication and live HD streaming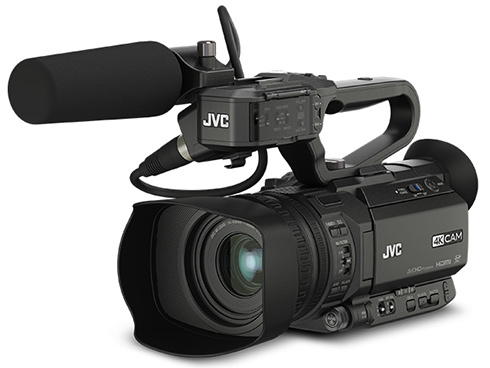 JVC GY-HM250E camcorder features JVC's latest IP communications engine, giving you remote control and monitoring of vital camera and lens functions from a tablet, smartphone, or computer anywhere in the world. Live streaming is possible in HD or SD resolutions, depending on available bandwidth.
Connect your camera to an optional Wi-Fi or 4G/LTE modem and share your programme with an audience anywhere in the world via content delivery networks such as YouTube, Facebook Live, and other cloud services.
HD-SDI (3G) and HDMI output
JVC GY-HM250E camcorder comes with a wide variety of connectors to meet the needs of professional applications, including HD-SDI (3G) and HDMI. Secure digital connection is assured between external devices such as a recorder or switcher. Simultaneous output from both SDI and HDMI is also possible.
1/2.3-inch 12.4M CMOS sensor
This camcorder was built to deliver stunning, life-like 4K Ultra HD (3840×2160) video. JVC's 4K CMOS sensor with 12.4M pixels delivers high sensitivity and excellent performance over a wide range of lighting conditions. Details are crisp and accurate throughout the entire image plane.
Full HD 4:2:2 recording at 50Mbps
The ability to record H.264 4:2:2 24-60p at 50Mbps makes this an ideal camera for broadcasting and production houses alike. The colour accuracy of 4:2:2 enables the camera to deliver exceptional colour resolution even when images are in sharp contrast to the background. This is particularly useful when strong colours are in contrast to bright backgrounds, or in green screen usage.
120fps high-speed recording for slow-motion playback
JVC GY-HM250E camcorder allows high-speed recording at up to 120fps (59.94Hz) / 100fps (50Hz) for smooth slow-motion playback. This can be used to create artistic effects or to review action replays when examining sporting skills. The feature is only available at 1920×1080 resolution only and offers up to 1/5 slow at 24p mode.
Detachable handle unit with professional XLR audio
The detachable heavy-duty handle makes the camcorder easy to carry and also makes it simple to shoot from low angles, thanks to its built-in REC button with a lock function, and zoom lever. XLR audio inputs are provided for the attachment of a professional microphone or for LINE input, complete with Phantom power supply capability.
Related Products
Other Site