JVC GY-HM250HW Live Stream Video Camera w/On-board Titling
The JVC GY-HM250HW features JVC's latest IP communications engine letting you stream your church events to a decoder at a cable head-end, or directly to the internet through your favorite content delivery network such as YouTube, USTREAM, Sunday Streams, Worchip Channels or JVC's own VIDEOCLOUD.
Just press one button on the camera and you're streaming to the world! Live streaming is possible in HD or lower resolutions, depending on available bandwidth. Remote control and monitoring of vital camera and lens functions is possible from a tablet, smartphone, or computer. And while streaming, the camera continues to function as a high quality, full HD camcorder giving you a pristine copy of the service with or without graphic overlay.
Graphic & Titling Solutions for a Single Camera Operator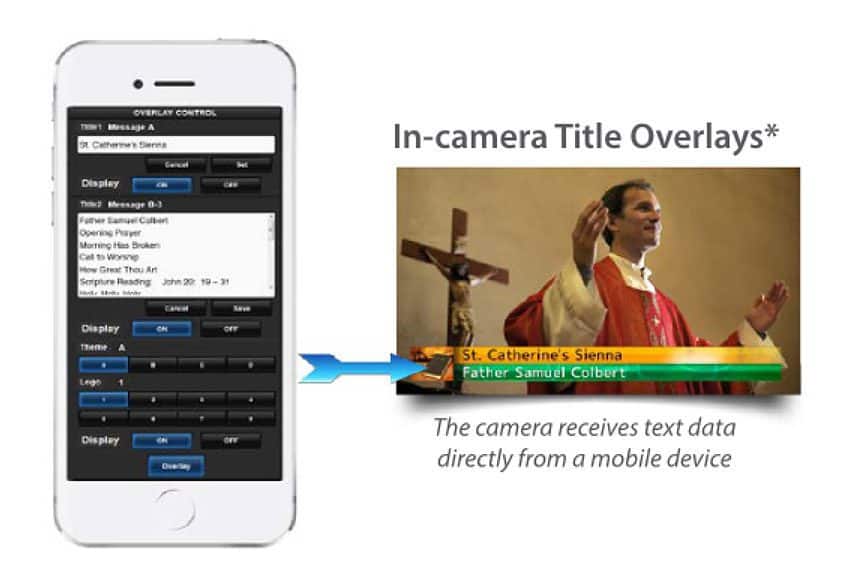 Designed for enhanced single-camera production, the JVC GY-HM250HW offers lower-third and full-screen titling solutions for recorded or streamed HD video output without an external CG or production switcher. Lower-third graphic overlays are generated and controlled using a browser-equipped device such as a tablet or smartphone.
JVC's software utility lets you upload logos or icons to be displayed in the lower-third of the recorded video. The camera also comes with several pre-installed color schemes and the ability to add your own text bar designs also exists. The new JVC GY-HM250HW is perfect for streaming Sunday services, weddings, memorials, family and church events, or literally any occasion you want to share live!
The JVC GY-HM250HW produces a graphic overlay on recorded or streamed video output with graphic icons for several holy events. The overlay is produced for both the streamed and recorded video simultaneously. No external character generator is necessary.
JVC GY-HM250HW Add up to 50 full screen custom graphics (PNG or JPG format) from an SD card and store them in the camera for live streaming or recording in the HD mode. Graphics may be advanced manually or presented as a looping slideshow with timing 1-99 seconds per slide. This new feature allows users to create opening and closing graphics, scripture passages, hymn lyrics and much more.
Graphics may be produced with PowerPoint or any photo editing software and saved as a series of image files. PNG graphics provide the most flexibility for creating overlays because they allow you to create transparent backgrounds. Full-screen graphics are saved at 960×540 and upscaled to 1920×1080. Stored graphics may be shown independently or concurrently with the lower third graphics generated in the camera.


Integrated 12x Ultra HD Lens, 1/2.3-inch CMOS Sensor
The JVC GY-HM250HW was built to deliver stunning, true to life video. The ultra high quality imagery begins with a precision 12x F1.2-3.5 optical zoom lens (35mm equivalent: 29.6-355mm). JVC's 4K CMOS sensor with 12.4M pixels delivers high sensitivity and excellent performance over a wide range of lighting conditions.
Details are crisp and accurate throughout the entire image plane. When shooting in the HD mode, Dynamic Zoom combines optical zoom and pixel mapping to create seamless and lossless 24x zoom.

Dual SDHC/SDXC Card Slots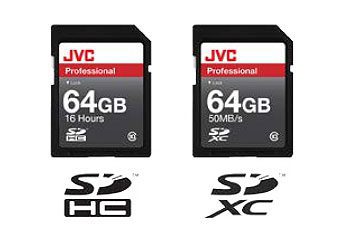 The JVC GY-HM250HW can create hours of pristine recordings to affordable nonproprietary SDHC/SDXC media in a variety of image formats including 4K Ultra HD, Full HD with 4:2:2 sampling, and SD and web friendly proxy formats. Dual SDHC/SDXC card slots make it truly versatile, offering such benefits as simultaneous recording and relay recording. In relay recording mode, you can shoot the event continuously over multiple cards—when one card is full, the camcorder switches automatically and seamlessly to the other card—perfect for longer ceremonies!