JVC GY-HM660SC Pro HD Sports Coaching Camera
The JVC GY-HM660SC is an upgraded and improved version of the popular GY-HM650SC, the first video camcorder designed to interface seamlessly with XOS Thunder HD™ and DVSport, the industry's premier on-site video editing platforms used throughout professional and amateur sports.
The integrated combination of JVC, XOS, and DVSport technologies enables sports organizations to add game play metadata with recordings from various camera angles—all synchronized with a single UTC time signal thus significantly reducing the time uploading practice and game footage. XOS Digital and DVSport are the leading providers of digital coaching technology.
Used by hundreds of professional and college sports teams, these systems are the most sophisticated available, with the ability to include positional tracking and biometric data for every athlete.
Wi-Fi and Broadband Connectivity with Advanced Streaming
To avoid time consuming uploads, coaches can stream footage directly to the analytics platform via 4G LTE connection or Wi-Fi using the GY-HM660SC's built-in IP tools. As a result, footage does not have to be uploaded manually, so coaches and players can review footage as soon as the game or practice is complete. Plus, high-quality HD footage is simultaneously recorded to SD cards in the camera for backup.
Thunder Friendly Recording Format: 8 Mbps, 720p/60p
In addition to standard full HD 1920 x 1080 recording the GY-HM660SC is also able to record at the Thunderfriendly Quick Time (H.264) 1280×720/60p(LP) or 50p(LP) at 8 Mbps.
High Performance Full HD 1/3-inch CMOS Sensors
At the heart of the GY-HM660SC are three, 1/3-inch CMOS sensors, each capable of capturing full HD 1920 x 1080 resolution images. Offering an excellent sensitivity of F12 (60Hz) /F13 (50Hz) and a remarkable signal-to-noise ratio, the devices provide superior precision and color reproduction.
Integrated 23x Fujinon Auto Focus Zoom Lens with Manual Functions


The JVC GY-HM660SC is equipped with a full range 23:1 Fujinon wide angle lens. Delivering superior low-light performance and ensuring brightness at the tele end, the lens offers F1.6-3.0, a focal range of 29mm-667mm (35mm equivalent) and includes servo zoom, manual focus, and iris rings, along with a four-position (clear, 1/4, 1/16 and 1/64) ND filter.
Other features include an optical image stabilizer and chromatic aberration correction. The GY-HM660SC's long zoom range means that you can get shots of the game not possible with other cameras its size.
Dual SDHC/SDXC Card Slots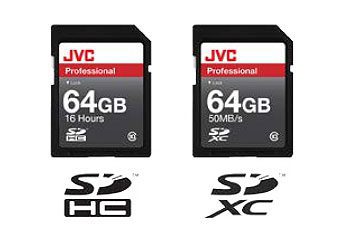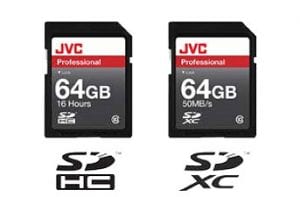 The JVC GY-HM660SC can create hours of pristine recordings to affordable nonproprietary SDHC/SDXC media. Having dual SDHC/SDXC card slots makes it truly versatile as a sports camera, offering such benefits as simultaneous recording and relay recording, in which you can shoot the game continuously over multiple cards—perfect for overtime!