Panasonic AG-CX10 4K 60p Camcorder with P2 MXF and NDI | HX
Smallest, Lightest 4K Camcorder
Panasonic AG-CX10 4K 60p Camcorder with P2 MXF and NDI | HX. Wireless Control from a Tablet or Smartphone, Full-HD Live Streaming.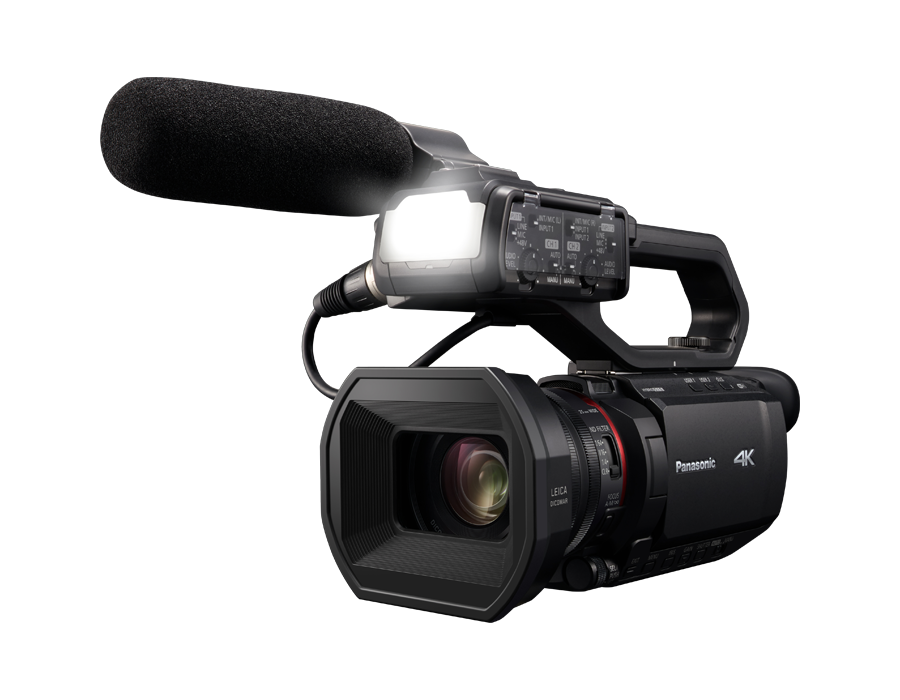 While excelling in mobility and portability, the Panasonic AG-CX10 4K compact body considers the weight balance of the advanced functions when shooting.
Panasonic AG-CX10 4K Wide 25mm* and Optical 24x Zoom Lens
The Panasonic AG-CX10 4K lens covers the range from 25mm wide-angle to 600mm tele with a 24x zoom. i.ZOOM achieves 32x zoom with 4K resolution, and 48x zoom with FHD.
* 35mm camera equivalent.
4K High-Precision AF
Panasonic AG-CX10 4K Face Detection precisely captures subjects on-site free from out-of-focus problems and insufficient exposure. Also, by adding color recognition, tracking subjects is improved, without interruption, when the face moves to either side.
HYBRID O.I.S.
In both UHD/FHD modes, in addition to Optical Image Stabilization, Electronic Image Stabilization detects and corrects handshakes in the 5-axis direction. The Ball O.I.S. System reduces friction in the drive section, especially improving the correction of small-amplitude blurring.
Heat-Dispersing Design
Panasonic AG-CX10 4K a new ultrathin fan disperses heat in a camcorder with an integrated lens and 4K 60p recording. It is the industry's smallest and lightest unit with low power consumption.
Versatile Recording Modes
Panasonic AG-CX10 4K Supports a high bit rate of 200 Mbps for 59.94p/50p video recording with HEVC (LongGOP/10 bit 4:2:0/MOV) codec, and 120/100fps* Super Slow-motion with 10-bit recording in FHD.
* 59.94Hz: 120fps, 50Hz: 100fps
Panasonic AG-CX10 4K 4:2:2 10-bit Internal Recording
Records a 4:2:2 10-bit color profile of up to LongGOP UHD 29.97p/25p (150 Mbps), or FHD 59.94p/50p (100 Mbps) with SD cards. Outputs 10-bit UHD 59.94p/50p images via HDMI.
P2 MXF File Formats Supported
Along with MOV, MP4, and AVCHD file formats, the advanced editing system for broadcasters, P2 MXF, is supported* with AVC-Intra/AVC-LongG codecs.
* AVC-Intra100/50 codec support is planned for the future. microP2 cards are required for acquisition in all P2 formats.
Full-HD Live Video Streaming

RTSP/RTP/RTMP/RTMPS-compatible HD streaming enables direct connection and distribution of relays for concerts, sports events, and news flashes to Facebook, YouTube, etc.
Wireless Control from a Tablet or Smartphone
This 4K Wi-Fi module is built-in, so a Wi-Fi connection of only the body is possible. Using a tablet or smartphone app HC ROP, wireless camera settings, and lens control are also possible.
Easy IP Connection: NDI|HX Capable
Transmits data and camera control via IP connection, without a converter. Linking the AV-HLC100 and HN/UN Series enables a live streaming system.
* Recording, streaming, and 4K output are not available when using NDI|HX mode.
To learn more about 4K Camcorder
Other Site