Panasonic AW-UN70 4K PTZ Camera with NDI/HX
Supporting both SDI and HDMI connectivity, the Panasonic AW-UE70 is a 4K integrated camera that offers high-quality video shooting and a bunch of features for professional applications. Incorporated with a 1/2.3-type MOS sensor and powered by a 20x optical zoom lens, it provides sharp and detailed images, even in challenging low-light conditions. With bonus features, its 4-axis hybrid image stabilizer helps keep the footage stable even when shooting in motion.
Another useful feature of the AW-UE70 is its audio input function, which allows you to record audio directly from a microphone. This can be useful for presentations or live events, where clear audio is essential.
In meeting professional requirements, the camera supports both SDI and HDMI video output and has an external synchronization signal input connector for syncing with other devices.
The camera also supports MicroSD card recording, which provides an easy way to store and share footage. Additionally, it has a JPEG image-saving function, allowing you to capture still images while recording video. The camera also supports PoE+, which makes it easier to install and reduces the cost of installation, as power and data can be transmitted through the same cable.
In terms of IP control, the AW-UE70 offers flexible options for remote control and monitoring, including IP control with image monitoring using PC, Mac, and mobile terminals. The IP control architecture is also designed to simplify system design and operation, making it easier to use and maintain.
One of the standout features of the AW-UE70 is its exceptional pan-tilt performance, which allows you to smoothly capture images over a wide area. This is especially useful for presentations, live events, and other applications where you need to capture a wide range of movement.
The AW-UE70W/K is available in 2 colors. White Model: AW-UE70W, Black Model: AW-UE70K.
4K image quality gives greater depth to the video, and IP video output flexibly delivers content.
The Panasonic AW-UN70 professional video camera integrates with a 4K PTZ camera before delivering outstanding pan, tilt, and zoom for 4K IP live or recorded footage, as well as in-camera recordings. The Panasonic AW-UN70 4K Camera can take images with a pixel density of 3840 x 2160 at 29.97 or 25 frames per second through HDMI and has built-in features including genlock and optical image stabilization.
It's All About the Image
The Panasonic AW-UN70 features a next-generation 1/2.3-type MOS sensor and DSP (Digital Signal Processor) for high sensitivity and high resolution up to UHD/30p.
The four-drive lens system drives three zoom lenses and one focus lens independently, resulting in a more compact body and a zoom mechanism with high magnification and image quality.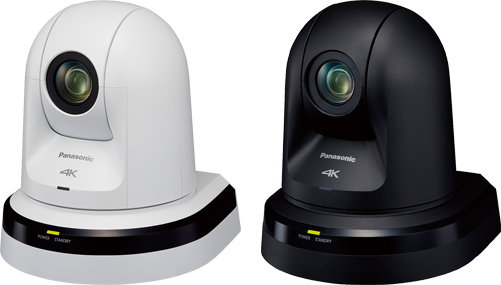 The AW-UN70 W/K has a high-resolution 20x optical zoom and a high-performance iA 22x zoom (4 modes). It is highly effective at reducing vibration brought on by the wind, subwoofers and loudspeakers, ventilation systems, and other factors.
Broadcast & Production Ready
In terms of live broadcasting and output capabilities, communication techniques including a self-propelled ND filter wheel for various lighting circumstances, 3G-SDI for output up to 1080/59.94p, and external sync input, the AW-UN70 exceeds the AW-HE40.
HD uses a larger lens system with good concentration monitoring throughout the picture to produce the highest image quality.
Versatile, Smooth & Lightweight
The pan range of 175° and the tilt range of -30° to +90° cover a wide shooting area. Pan and tilt operate at a maximum speed of 90° per second and respond quickly to remote control operation. They work quietly at a sound level of NC35 or lower. The camera weighs only 3.3 lbs. and consumes just over 15.6 watts at 12 VDC.
To learn more about Related Products
Other Site