Rode Wireless PRO – The most powerful wireless mic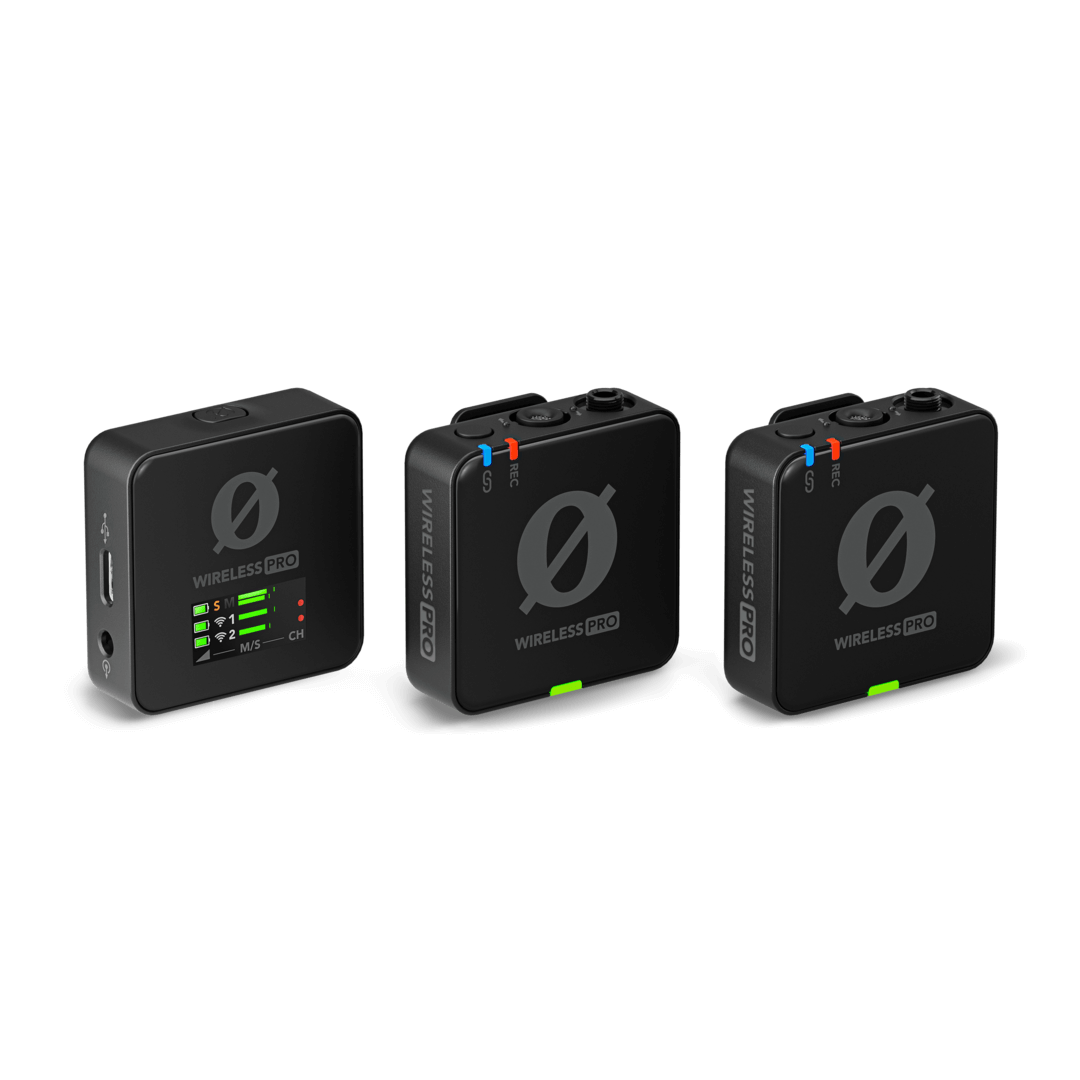 The Rode Wireless PRO stands as the ultimate wireless microphone, brimming with powerful features that provide unparalleled flexibility for capturing pristine audio in your content creation. With 32-bit float on-board recording, you'll never lose a take, and the timecode synchronization ensures flawless alignment of video and audio. Effortlessly capture outstanding audio with the intelligent GainAssist technology. The Wireless PRO delivers everything you could desire from a compact wireless microphone system and goes beyond expectations.
Cutting-edge Wireless Audio
RØDE pioneered the ultra-compact wireless microphone category with the original Wireless GO, and this legacy continues with the Wireless PRO. Leveraging Series IV 2.4GHz digital transmission and a proprietary near-zero latency codec with 128-bit encryption, it provides crystal-clear, highly stable audio with a range of up to 260m. You can rely on this wireless audio solution in nearly any recording scenario.
No More Lost Recordings
Forget the frustration of realizing your recording is unusable after importing it into your editing software. With the Wireless PRO, this is a thing of the past. The 32-bit float on-board recording ensures that your audio is securely backed up with the ability to recover recordings in post-production that were either too loud or too quiet. Say goodbye to worries about perfect gain settings—it's a game-changer.
Perfectly Synced Audio and Video
The Wireless PRO's timecode capability allows you to effortlessly synchronize your audio and video, eliminating the need for complex and expensive external timecode systems.
Impeccable Audio in Every Situation
Beyond its 32-bit float on-board recording, the Wireless PRO offers an array of features guaranteeing pristine audio in any circumstance. Achieve smooth and balanced audio with intelligent GainAssist technology, precisely match your mic to your camera with flexible gain controls and tailored presets, and add an extra layer of protection with the safety channel. It ensures perfect recordings every time.
The Ultimate Professional Recording Kit
The Wireless PRO comes complete with everything you need for immediate setup and wireless audio recording. It includes two professional Lavalier II microphones ideal for on-screen talent, furry windshields for outdoor use, MagClip GO for versatile transmitter attachment, a smart charging case, and a convenient accessory pack for organized storage of lavs, cables, and clips.
Universal Device Connectivity
Thanks to its analog (3.5mm) and digital (USB-C) outputs, the Wireless PRO is universally compatible with cameras and various audio devices. It seamlessly connects to iOS and Android smartphones and tablets, as well as Windows and Mac computers.
Effortless Configuration and Control
Check your audio levels with a glance at the bright LCD display and configure settings on the fly with dedicated controls for everything from gain adjustment to triggering recordings. Customize the system to your preferences using the RØDE Central app on your computer or smartphone, providing complete control over your setup for any recording situation.
Monitor and Record On the Go
Monitor audio in the field with the Wireless PRO's high-power headphone output, equipped with on-board level control. Alternatively, connect a headset or narrator microphone, such as a lavalier, to capture a third audio track, showcasing ultimate versatility.
Compact and Highly Portable Design
Featuring the same super compact, ultra-lightweight design renowned in the Wireless GO series, the Wireless PRO is discreet on talent and highly portable—a perfect addition to any recording setup.
Road-Ready Reliability
The included smart charge case not only shields the Wireless PRO on the road but ensures it's always charged and ready to go. It facilitates ultra-fast data transfer, allowing quick export of recordings on the move.
Locked and Loaded Security
With locking 3.5mm lavalier connectors, you never have to worry about your mics being accidentally pulled out mid-shoot. This feature is perfectly paired with the included Lavalier II premium lavalier microphones.
In conclusion, the Rode Wireless PRO Compact Wireless Microphone System emerges as a powerhouse in the realm of wireless audio, setting a new standard for versatility and reliability. Packed with cutting-edge features, it caters to the needs of content creators, ensuring seamless recording experiences.
The integration of 32-bit float on-board recording proves to be a game-changer, offering a safety net for every take and eliminating the anxiety associated with perfect gain settings. The timecode synchronization capability simplifies the alignment of audio and video, showcasing a commitment to user-friendly functionality.
The Wireless PRO's state-of-the-art wireless audio technology, inherited from the pioneering Wireless GO series, provides crystal-clear and stable audio across a remarkable range. Its adaptability to diverse recording applications makes it a trustworthy companion in any scenario.
This system goes beyond being a mere microphone; it's a comprehensive recording kit. With professional Lavalier II microphones, MagClip GO for versatile transmitter attachment, and a smart charging case, it ensures users are equipped for success straight out of the box.
Universal compatibility with various devices, both analog and digital, underlines the Wireless PRO's commitment to convenience. The ease of configuration and control, whether through dedicated controls or the RØDE Central app, empowers users to tailor the system to their specific recording needs.
The high-power headphone output, coupled with on-board level control, adds a layer of on-the-go monitoring, showcasing the system's ultimate versatility. Its compact and lightweight design, reminiscent of the Wireless GO series, makes it an unobtrusive yet powerful addition to any recording setup.
The road-ready reliability, facilitated by the smart charge case, ensures that the Wireless PRO is not only protected but also perpetually ready for action. The locking 3.5mm lavalier connectors provide an extra layer of security, emphasizing the system's attention to detail.
In essence, the Rode Wireless PRO Compact Wireless Microphone System stands as a testament to RØDE's commitment to innovation and excellence in audio technology. Whether you're a seasoned professional or an aspiring content creator, this system promises to elevate your audio recording experience to new heights.
Related Products:
Rode Wireless Go 2.4GHz Digital Wireless Microphone System
Rode Wireless Go II Dual Channel Wireless Microphone System
Rode Wireless Go II Single – Wireless Microphone System
Rode Wireless GO II TX Transmitter for Wireless GO II
Rode Wireless ME Compact Wireless Microphone System
Rode Wireless ME TX Transmitter for Wireless ME
RODELink Newsshooter Kit Digital Wireless System
RODELink Performer Kit Digital Wireless Audio System
RODELink TX-BELT Beltpack Wireless Transmitter
RODELink TX-M2 High quality Condenser Microphone
Read our Blog:
Unleashing the power of Rode Wireless Pro System
Indhu UC added on 04 Oct 2023