Samson Concert 288 Handheld Dual Channel Wireless System
Take The Worry Out Of Wireless.
Samson takes the worry out of wireless with the Concert 288 Handheld Dual Channel Wireless System. Offering easy setup, flawless operation and premium sound, it?s the ideal high-performance UHF wireless solution for vocal performances, presentations, educational applications and more where two users are needed.
The dual-channel, frequency-agile Concert 288 Handheld allows for up to 24 systems (48 performers) to operate simultaneously (region dependent). The Concert 288 Handheld gives both performers an impressive 300? range of wireless operation between the transmitters and receiver, making the system ideal for large stages and crowd participation.
To ensure interference-free performance, the Concert 288 Handheld features a true diversity design. If a drop out does occur, the receiver?s tone key triggers an Auto Mute function to eliminate any background noise until the signal is restored.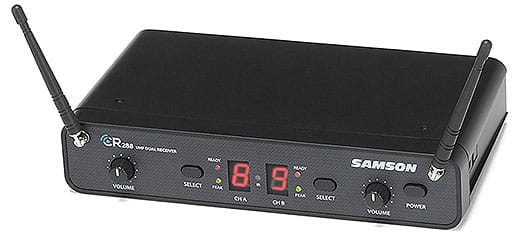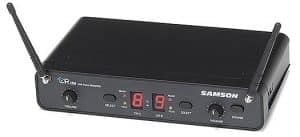 The Concert 288 Handheld features two CH288 Handheld Transmitters with Q6 Dynamic Microphone capsules. These handheld mics bring maximum versatility to any dual-user application, particularly duet performances, as well as audience participation and interview situations. The transmitters, which can operate for up to eight hours on two AA batteries each, are engineered to the finest detail to provide the ultimate in sound reproduction.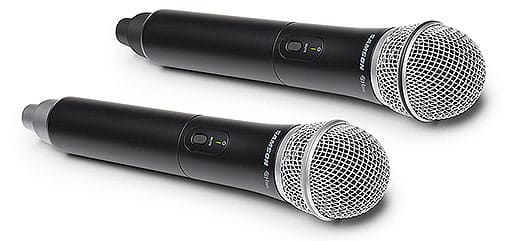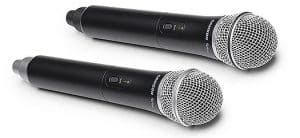 With Samson's Concert 288 Handheld Wireless System, advanced technology and total versatility combine to provide high-quality wireless performance wherever singers, presenters, educators and others need it.
Features of the Samson concert 288 handheld- dual channel wireless microphone system
The Samson concert 288 handheld  dual channel wireless microphone system is the best choice if you need to use two wireless microphones. The wireless microphone has very simple operations that will simply make your vocal performances perfect. The karaoke sing along XSW microphones, best wireless microphone system can quickly be up and running out of the box to enhance your vocal performances. The wireless microphone system features 16 channels per receiver set by the infrared transmitter.
The exciting feature is the CR288 wireless receiver. It has multiple frequency options that prevent interferences as well a separate volume controls for every channel. The dual balanced XLR outputs provide two alternatively channel outputs for rooting signals to separate mixer channels. The wireless microphone is fit for use in the house of worships, clubs and other event performances. The karaoke singalong XSW microphones, best wireless microphone system will simply make your performances great.
The ability of this exciting wireless microphone to operate for about eight hours without charging the battery simply makes it the best option. The Q6 dynamic handheld transmitter and the CB288 belt pack transmitter both use two AA batteries with high operating range. All you need in a microphone system is a clear and natural sound production. The high sound quality that you require is found in the karaoke singalong XSW microphones, best wireless microphone system.
To enable the microphone system to produce just the best sounds, it must have the LMS lavalier, HS5 headset microphone that has a locking mini-XLR (P3) connectors. All these features are found in the Samson concert 288 handhelds dual channel wireless microphone system.
The wireless microphone system consists of basically four features. There is one CH288 handheld transmitter, a CB288 belt pack transmitter, one HS5 headset microphone, and one LM5 lavalier microphone. It becomes so convenient to host an interview or perform duet performances. This is enabled by the dual mic that comes along with this incredible wireless system. This is why it becomes so convenient for such performances as the karaoke.
Where the audience should participate in this wireless dual microphone system from Samson becomes important. In interviews as well, this set of the best microphone system becomes very essential. As additional tools to the one in one microphone system, the compact comes with AC adapters that will ensure that your devices are protected, also rack ears, and a cable accompanies the combo system.
It is very easy to set up a wireless microphone system. Since it is an all-in-one combo system, the operation of setting up becomes so simple. If you need to urgently begin an event be it a church function, a sporting event, a public gathering or even an education forum, you will be able to set up the microphone system without delays.
If you intended to hold an event, then do not hesitate to buy the Samson concert 288 handheld- dual-channel wireless system microphone. It is best that you can get in the market. You will enjoy the best sound qualities in your events.