Sennheiser EW 500 BOOM G4 Wireless Microphone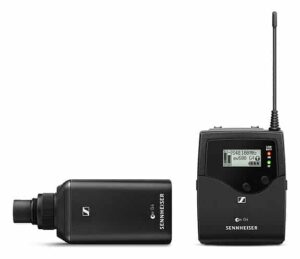 The Sennheiser EW 500 BOOM G4 professional's choice for broadcast quality sound. Providing the highest flexibility for your video sound and field recording applications. A robust wireless microphone system that offers the ultimate sound quality, simple mounting, and ease of use.
The phantom power-equipped SKP 500 plug-on transmitter adapts any wired shotgun or handheld microphone for a wide range of wireless applications, from field interviews to off-camera boom work.
Rugged, all-in-one wireless system for professional interviews and recording. Set consisting of 1 SKP 500 G4 plug-on with phantom power, 1 EK 500 G4 portable camera receiver, and accessories.
Features
A highly versatile solution for professional film sound: Rugged all-in-one wireless system for professional interviews and recording
Professional sound and excellent construction quality
Easy to use and fast setup time
Easy and flexible wireless synchronization between transmitter and receiver via infrared
Up to 88 MHz bandwidth, up to 32 channels
Range: up to 100 meters / 330 feet
Increased RF output power (10/30/50 mW)
Up to 8 hours of operation time
With 48 V phantom powering
Sennheiser EW Series Family Products
EW 112P G4 Wireless Microphone
EW 100 G4-ME4 Wireless Microphone
Other Site