Sony ILME-FX3 4K Full-frame Cinema Line Camera
Sony Professional ILME FX3 Cinema Line Full-frame camera is a cutting-edge, professional-grade camera that is well-suited for use in a variety of film and video production applications. With its full-frame sensor, advanced color science, and support for external recording, this camera is designed to deliver high-quality, detailed images with a wide dynamic range. In this article, we'll take a closer look at some of the key features and capabilities of the Sony Professional ILME FX3 Cinema Line camera.
One of the most notable features of the Sony Professional ILME FX3 Cinema Line is its full-frame sensor. The sensor has a resolution of 6K, which is significantly higher than many other professional-grade cameras on the market today. This high resolution allows for incredibly detailed images with a wide dynamic range, meaning that the camera can capture a wide range of brightness levels in a single shot. This is particularly useful in situations where lighting conditions are challenging, such as when shooting outdoors in bright sunlight or in dimly lit indoor environments. Additionally, the camera's ability to capture a wide dynamic range makes it well-suited for use in post-production, as it allows for greater flexibility in adjusting exposure and color in the final image.
Another important feature of the Sony Professional ILME FX3 Cinema Line is its advanced color science. The camera supports S-Log3/S-Gamut3 color science, which is a professional color space that allows for a wide range of color reproduction. This makes it easier to achieve a cinematic look when shooting video, which is particularly useful for film and commercial production. Additionally, the camera supports 16-bit raw recording, which allows for a much higher level of color depth and detail compared to a traditional 8-bit recording. This is especially useful when working with high-contrast or high-dynamic range images, as it allows for greater flexibility in color grading and adjusting exposure in post-production.
The Sony Professional ILME FX3 Cinema Line also includes support for an external recorder, which is a key feature for professional film and video production. An external recorder allows for greater flexibility in terms of recording options, such as higher bitrates or different file formats. This can be particularly useful when working on projects that require a high level of image quality, such as feature films or high-end commercials. Additionally, the camera has a variety of input/output options, such as HDMI, USB, and Ethernet, which allows for greater flexibility in connecting to external devices such as monitors or other recording equipment.
The camera body of the Sony Professional ILME FX3 Cinema Line is designed to be compact, lightweight, and easy to use, making it perfect for run-and-gun style shooting. This makes it ideal for situations where mobility and speed are important, such as when shooting on location or in fast-paced environments. The camera is also equipped with a built-in ND filter, which is a useful feature that allows the camera to shoot in bright lighting conditions without having to use an external filter. This can be particularly useful when shooting outdoors or in other bright environments, as it allows the camera to maintain a shallow depth of field while still being able to capture a wide range of brightness levels in a single shot.
In addition to its advanced features and capabilities, the Sony Professional ILME FX3 Cinema Line also offers a variety of shooting modes and settings to suit a wide range of shooting scenarios. For example, the camera includes a variety of picture profiles and color settings, such as S-Log3, S-Gamut3, and S-Gamut3. Cine, which allows for greater control over the final image.
Examine the Sony FX3 camera from the inside out
We aim to get the most value for our money when purchasing cameras, and the Sony ILME-FX3 Camera delivers on that promise. It is a content creator's dream camera, with a sleek look, exciting features, and an ultra-light body that makes it a worthwhile investment.
Sony is becoming increasingly focused on catering to content creators as the trend of creating digital content as a profession grows.
The Sony ILME-FX3 Camera, on the other hand, is appropriate for anyone taking an interest in videography and photography.
Are you unsure whether this will meet your professional shooting requirements? Not sure if it can withstand rigorous usage. Yes, to both of these questions.
The Sony ILME-X3 Camera is completely dependable for professional shooting and is certainly adaptable to rigorous use.
See what it has to offer in terms of features and specifications.
Features in short:
– High sensitivity.
– Record the entire frame.
– Compact Body design
– Rapid mobility.
– Suitable for solo shoots.
– Adaptable for professional work.
– Improved image-processing engine performance (BIONZ X).
– High-resolution frame rate of 4k (QFHD).
– Cinematic color sensitivity with S-Cinetone.
– High functionality in low-light situations.
– Excellent bokeh
– High-definition recordings for crystal-clear content.
– HDMI connections with compatible external recorders are possible.
– Excellent autofocus performance.
– Real-time Eye AF for steady subject focus.
Sony FX3 detailed specifications:
Sensor: 35mm full-frame, Exmor R CMOS sensor.
Pixels: 10.2 megapixels for videos. 12.1 megapixels for still photos.
Media supported: CFExpress Type A/ SD Card (2)
Slots for memory cards: 2
Measurements: 77.8 mm (length), 129.7 (breadth), 84.5 mm (width)
The camera's compact size makes it ideal for content creators who shoot on their own or solo videographers in general. In addition to making photography simpler, the camera's rapid mobility and lightweight also relieve hand strain. As a result, the output is consistent with the highest caliber. As a result, videographers and content creators looking for trouble-free shooting can close their eyes and rely on the Sony ILME-FX3 Camera.
The excellence of S-Cinetone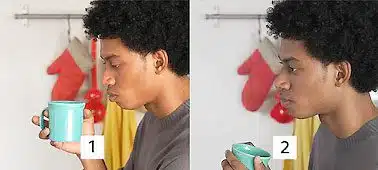 The S-Cinetone feature instantly improves the colors of your shot, which is something that every content creator wants in their shots. It captures natural tones perfectly, enhances hues, and makes the shot much more natural, vibrant, and noise-free.
HDMI connectivity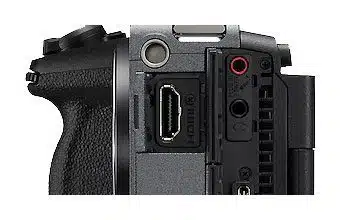 The Sony ILME-FX3 Camera features a 16-bit RAW HDMI connection with compatible external devices for improved productivity and post-production operations. The camera's RAW video output has a resolution of 462×2408 (16:9).
Excellent autofocus capabilities
The ILME-FX3 camera's exact tracking abilities enable the user to focus on the topic without being hindered while taking beautiful images. With the focal plane, phase detection, and accurate subject-tracking capabilities of the wide-area autofocus, the user is also able to capture images of the full frame in pristine clarity. The Fast Hybrid AutoFocus aids in keeping the quality of the shots even in shallow fields and at high frame rates of 120p.
Inbuilt image stabilizer
The Sony ILME-FX3 Camera offers an active mode with a 5-axis image stabilization facility, so even if you move erratically while taking pictures, the quality of your images won't suffer. The picture stabilizer will eliminate noise and maintain the image's quality. The image quality is corrected optically by the gyroscope sensor, which precisely measures camera movements.
Multi-angle LCD touch monitor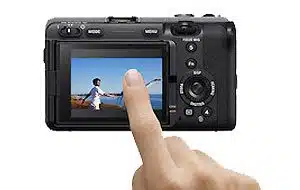 The camera is considerably more user-friendly thanks to the flexible multi-angle 3.0 type LCD monitor panel. No matter where the camera is positioned, it enables the user to see the entire shot.
Input for external microphones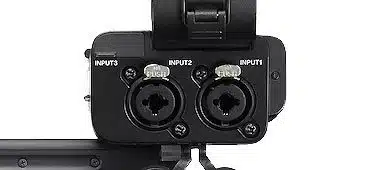 Even though the camera comes with its inbuilt microphone, you can also connect external professional microphones through the XLR connectors placed on the handle via a digital audio interface by MI Shoe. Connecting a digital microphone like the ECM-B1M will allow you to record digital audio.
Remote shooting and remote monitoring
To remotely control the photos, the camera can be connected through Wi-Fi to an external device like a smartphone. In addition, you can perform it on a PC by using Sony's Imaging Edge Desktop software. The user will also be able to remotely monitor the shooting as it is being recorded because of the same software.
Conclusion
The Sony ILME-FX3 camera is a good option for content creators and solo videographers due to its excellent features and flexibility.
It is the ideal choice for anyone wishing to up their game in content creation with great features and professional specifications.
The Sony iLME-FX3 Camera is ideal for you if your budget is reasonable and you're looking for a comprehensive shooting tool.
Note :
May lookout for the next model ILME-FX6  or PXW-FX9
Compared price
Ind H-6/3/23