Sony PXW-Z150 4K XDCAM Camcorder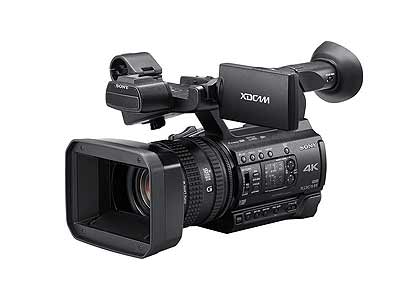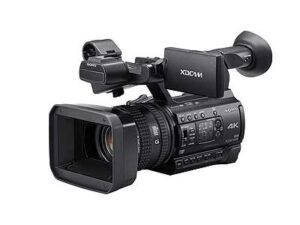 Ready for any shooting scenario, Sony PXW-Z150 handy professional camcorder delivers stunning 4K image quality, 120fps HFR Full-HD slow-motion, and built-in advanced networking for live streaming and wireless workflow.
Highly sensitive with stunning picture quality
Compared to the original Exmor R CMOS sensor, the Exmor RS CMOS chip has higher performance capability. This high readout speed provides a high frame rate(HFR) at 120fps and 4K Cameras image capture without binning.
Moreover, in comparison with other camcorder sensors in its class and price range, the 1.0-inch type stacked sensor is brighter, has higher resolution, and offers more bokeh with a shallow depth of field
This gives you the magic to create magnificently cinematic images that will inspire you and delight your clients.
Premium quality G Lens
The Sony PXW-Z150 has a premium 12x zoom lens for its camcorder, this is specifically designed for 4K imaging, thereby providing you with high resolution and contrast from the center of your image, right to the edge. The improved Clear Image Zoom feature doubles magnification up to 18x when shooting in 4K QFHD and up to 24x in HD, thereby maximizing the performance of the camcorder's large 1.0-inch type stacked sensor.
Wide application coverage with 120 fps continuous slow motion
The Sony PXW-Z150 takes up to 120 frames per second (fps) in Full HD, This High Frame Rate (HFR) shot helps capture every single important moment by providing you a maximum of 5 times slow motion expression, so you wouldn't miss out on the picture perfect shots and there would be no sacrifice in bit depth, "windowing" of the sensor, crop factor, and loss in angle of view.
Take the shot, like how you see it, perfectly.
Rich recording format for professional shooting
The advanced XAVC Long GOP format promises high-quality video in both 4K and Full-HD resolution while MPEG2HD format provides full broadcasting support.
Advanced network functions
You no longer have to sweat about connectivity, the built-in Wi-Fi in PXW-Z150 4k Camcorder offers live streaming to the cloud or FTP server.
Paired together with Sony's Content Browse Mobile software, this means that you can now control your camcorder remotely on your smartphone or tablet; adjust settings such as focus, zoom, iris, white balance, REC START/STOP, and more without even touching your camcorder.
*QoS will be supported by a future firmware update.
Compact and lightweight body with high operability
Sony PXW-Z150 is ergonomically designed to give you a lightweight and easy-to-use shooting experience. Three manual, independent lens rings provide smooth, natural adjustment of focusing, zooming, and iris control.
Choose between full-auto mode or completely manual, have creative control, and allow your shots to vary as you like them to. The manual dial and buttons on the side of the body give you quick and easy adjustment of IRIS (aperture), GAIN, and shutter speed, not to mention, the white balance is simple to adjust by color temperature in convenient 100K steps.
Rich interface for professional use
Like the top-notch professional camcorder, PXW-Z150 offers a wide range of connectivity, enabling you to connect to the world, you are now worry connectivity, the camcorder comes with built in3G-SDI, HDMI, Multi/Micro USB, professional audio XLR terminals, REMOTE, Composite (RCA) and Lineout.
Multi-Interface (MI) Shoe
Having a Flexible Multi-Interface (MI) Shoe means power, signal connections and coordinated on/off switching to compatible Sony accessories. Your Audio can now be truly wireless.
Clear Image Zoom
With a stunning optical 12x zoom lens, this spells high resolution and contrast across the entirety of your picture. Sony's advanced Clear Image Zoom comes with doubles magnification, smoothly, to 18x when shooting in 4K QFHD and 24x in HD, making full use of the imaging capabilities of the PXW-Z150's large 1.0-inch type stacked sensor.
Dual SD Card Slots
Never miss the perfect picture with dual SD card capability. This is a feature found on almost all professional camcorders and enables simultaneous, relay, and independent recording.
To learn more about 4K Cameras
Other 4K camcorders
Sony PXW-Z190
Sony PXW-Z90
Other Site