Tally Signal Universal Converter for Hollyland MARS T1000
Tally Light Signal System for Hollyland MARS T1000
TALLY Signal Universal Converter User Manual
MARS T1000
TALLY Signal Universal Converter Accessories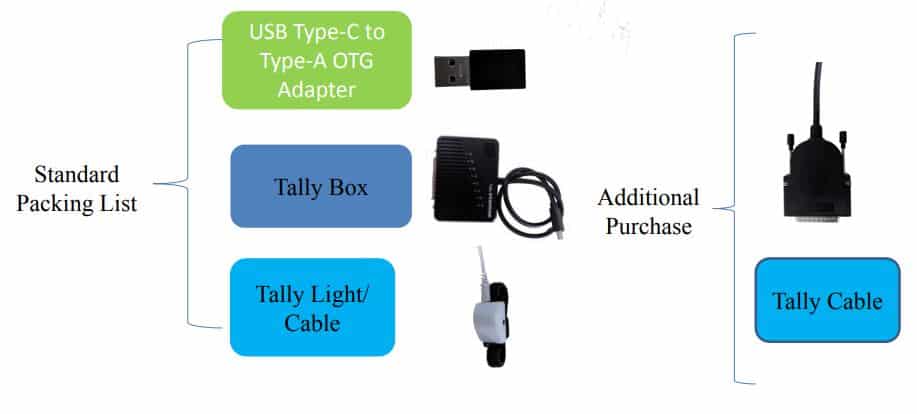 MARS T1000 Tally Cable:
One side is DB25PIN and the other side can be customized according to the switcher
TALLY Connection Instruction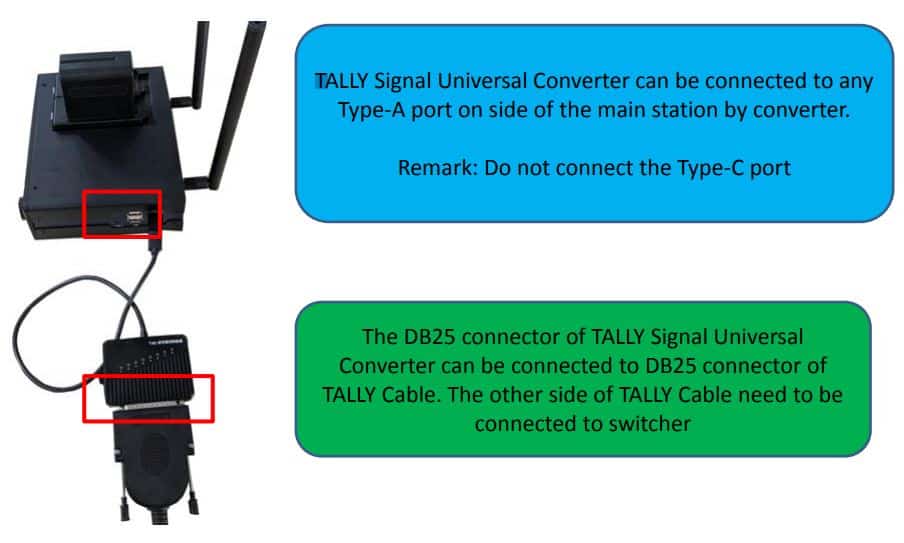 DB25 INTERFACE AND TALLY INDICATOR WIRING RELATION TABLE
| | | | |
| --- | --- | --- | --- |
| Channel | Program | Preview | GND |
| Tally 1 | PIN1 | PIN14 | PIN13 |
| Tally 2 | PIN2 | PIN15 | PIN13 |
| Tally 3 | PIN3 | PIN16 | PIN13 |
| Tally 4 | PIN4 | PIN17 | PIN13 |
| Tally 5 | PIN5 | PIN18 | PIN13 |
| Tally 6 | PIN6 | PIN19 | PIN13 |
| Tally 7 | PIN7 | PIN20 | PIN13 |
| Tally 8 | PIN8 | PIN21 | PIN13 |
TALLY Working Diagram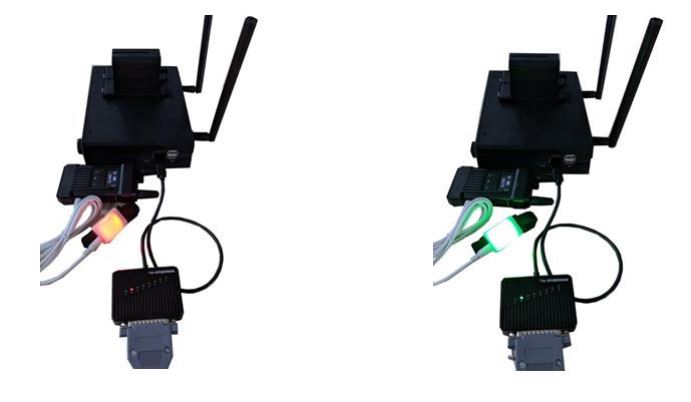 MARS T1000 Support Dual Color TALLY Light
Switchers Supporting Dual Color TALLY: Datavideo HS2800, Panasonic AV-HS410 etc.
Switchers Supporting Single Color TALLY: SONY MX-500; SONY AWS-750 etc.
FAQ
1.Why TALLY light is not on when it was connected correctly?
A:a. Check if TALLY is connecting to main station with Type-A; do not connect to Type-C port
b. Make sure the product is the right version as below: Main Station:1.0.6.12 Beltpack: 1.2.4.0
c. Check the tally output type is electrical level or break-make level, and choose "High" or "low" switch accordingly
2.MARS T1000 supports dual color TALLY light, then why there are some switchers can only show single color Tally?
A: Because those switchers only support single color Tally, like SONY MCX-500; SONY AWS-750 ETC. If switcher can support dual color Tally, then MarsT1000 can work as normal.
3.Can Tally function works normally when two MARS T1000 connected?
答:Temporarily unavailable.
4. What is the reason of the red and green light flash randomly or stay on?
A:Normally, it caused wrong connection of TALLY cable . Please check TALLY cable sequence , and if there is short circuit or omitted.
5. BMD Switcher Using Note
A:1. Switchers default IP is 192.168.10.240, pls do not change if necessary.
2. It is recommended to use the Tally Converter from original factory, because others may cannot connect to switchers.
6.For SONY MCX-500 switcher,why TALLY was working abnormally while transmitting video signal from SDI to HDMI?
A:SONY MCX-500 TALLY pin definition was divided into SDI and HDMI signal, so when signal is converted from SDI to HDMI, TALLY cannot work normally.
7. Can MarsT1000 be connected to other wired or wireless intercom system?
A:Yes