Vaxis Storm 3000 DV TX Wireless 3G-SDI/HDMI Wireless Transmitter with 072 RX Monitor
Storm 3000 DV Tx also has an outstanding wireless transmission performance, the transmission distance is up to 1 km line of sight, which is close to the limit of the current omnidirectional antenna transmission (a directional antenna transmission is usually used for long-distance transmission).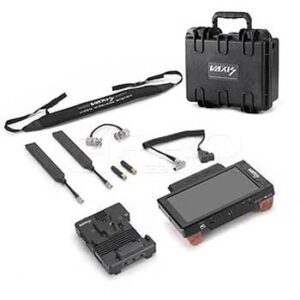 Exquisite side screen, intuitive info display
The Vaxis 3000 DV has been thoughtfully designed all the way down to the new side panel display screen, which allows for easier access and viewing of the menu and functions.
Light, thin and fast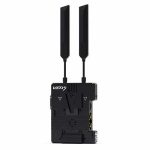 Vaxis Storm 3000 DV Tx has been integrated the most internally to compress the size, making it the thinnest and lightest among all the Storm series products and other same-level products.
Features:
• Full HD 1080p, no compression, zero delays.
• Transmission 3000ft
• 20 channels
• LED screen
• USB upgrade
• Channel Scanner workable
• Dual V-mount on TX
• TX:SDIInx1&HDMIInx1,SDIloopout
• Built In HDMI/SDI Converter
• Support metadata, timecode, and time trigger
• Zero delays for Arri Mini playback, on/off optional
• Compatible with ALL Vaxis Storm Wireless Receivers.
Compatible:
• Compatible with all cameras with V-Mount style batteries and all Vaxis Storm series receivers.
Features of Vaxis 072 Wireless Monitor:
• Up to 500 meters distance.
• 20 optional channels, stable signal.
• Integrated 7" LCD with Storm 3000 Receiver.
• IPS Screen, 1500 nits, 1080P Full HD.
• Built-in digital cooling fan.
• 7″ IPS LCD display with 1080p resolution and 1000 cd/m² brightness.
• Transmission distance up to 500m; the Vaxis Scanner is included to find channels with the strongest signals.
• Five high-gain antennas.
• Runs on one separately available NP-F970 L-series battery for approximately 3.5 hours.
Compatible:
• Storm 800, 1000S, 2000, 3000, and 5000 transmitters; ARRI WUC-4, Movcam, Tilta Nucleus-M, and C-Motion wireless monitors.
Storm Series Related Products