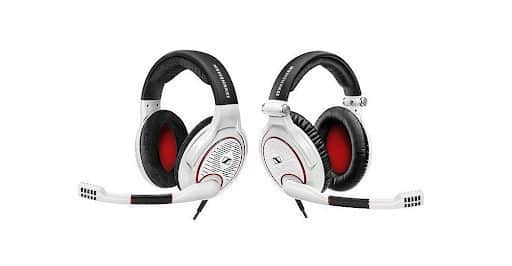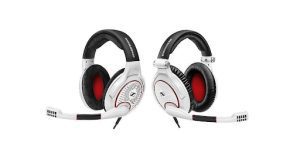 Sennheiser Game One and Sennheiser Game Zero are two almost identical gaming headphones (both with noise-canceling capabilities). When you place them side by side at first glance, it's nearly impossible to know which is which. However, once you inspect them meticulously, you will see that there's quite a difference between the two. Let's explore those differences and find out which one is better for you.
Sennheiser Game One Vs. Game Zero
Sennheiser Game One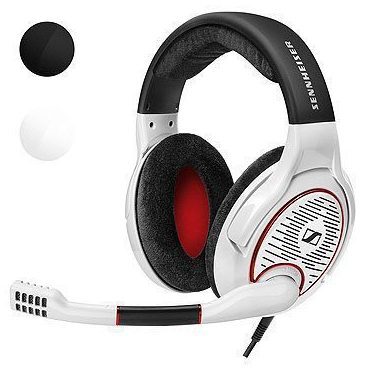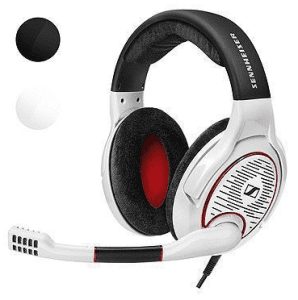 The exterior design of Sennheiser Game One headphones appears to be almost identical to Game Zero at first glance. They have the same ear cup design, meshed microphone, and black, white, and red color scheme. However, a closer inspection reveals a few notable differences.
Comfort
The Game One earcups' paddings are of firm foam wrapped in a fabric mesh. Its headband padding uses the same material but with a softer texture. Its fabric mesh padding prevents the headset from sticking to your ears, making it perfect for gamers who plan to use it for long hours.
However, when it comes to comfort, some people may feel the texture a bit awkward at first, especially that leather paddings are more common today.
Audio
Game One's audio quality is exceptional, expected coming from Sennheiser. It has a very neutral sound, neither too sharp nor too bassy. Even if your computer does not have a discrete sound card, you will still be amazed by its balance.
Build
The Game One headphones do not contain any metal. Although we generally see plastic products as inferior when it comes to durability, we guarantee that it does not apply to the Game One headphones.
One other thing that makes the Game One headphones more appealing is their weight, 30 grams lighter than Game Zero. It's not heavy or has that bulky feeling. Wearing it for more than 15 minutes will make you forget it's even there.
Pros and Extra Features
Balanced sound (can take on both high and low notes without any distortion)
It has a detachable cord, allowing you to replace or customize it
Non-leather padding offers better air circulation (cooler temperature and less prone to ear fatigue)
Impressive soundstage (in gaming, you can better identify your enemy's location)
Cons
Earcups are not that durable due to their materials
Its mic sometimes make a weird sound due to the mesh if you move a lot
Sennheiser Game Zero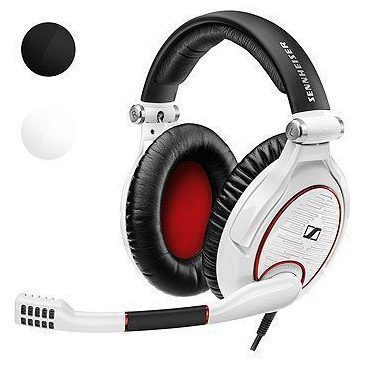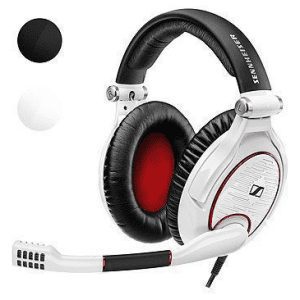 Again, the Sennheiser Game Zero looks almost identical to Game One, but it has its few significant features that may want you to purchase this product over the other.
Comfort
Game Zero headphone's padding, made of soft leather, feels homier. It's not more comfortable; it just feels natural. However, after hours of use, it can make you feel uncomfortable as it becomes sticky due to sweat.
Audio
The Game Zero's audio is also superb. However, it isn't as balanced as Game One's sound. Its high mids can sometimes overshadow the lows, but a good sound card can fix this without a problem. The difference may only be noticeable to audiophiles. For the average gamer, it's not an issue.
What sets the Zero apart is its design and soundstage. Since it uses leather and the earcups are closed, you will not hear any outside noise. This feature is advantageous if you love zero distraction. In gaming, Zero's soundstage is inferior to Game One's. So you can pinpoint in-game elements by sound accurately.
Build
The Game Zero headphones are made of metal and plastic. It feels as durable as Game One. However, since it has a few metal components, it feels and is heavier. Another feature that may come as an imperative buying factor to you is its compact nature. You can fold this in half, so you can comfortably carry this with you as you travel.
Pros and Extra Features
Less distraction due to closed earcup design
You can customize the frequency range extensively
Has a volume knob for easier control
Cons
Bass sound is slightly inferior compared to Game One's
Noise-canceling may hinder communication
Price Comparison
As we all know, product pricing can change just like the seasons, especially every time the brand updates the product. However, Game One often comes with a slightly lower price compared to Game Zero.
We sell the Game One at SGD 290 (more or less), while the Game Zero is at 320 (more or less). The price difference may just be due to the materials used. As mentioned above, Game One does not use leather paddings, making it more comfortable but may be more prone to damage in the long run.
So Which One Should You Get? Verdict
Because these headsets — Sennheiser Game One and Sennheiser Game Zero — are similar, choosing between them can be frustrating. Which headset you should choose depends on what you value most in a headset.
The Game One's open design and balanced audio palette make it a safe all-around choice. Also, you can't go wrong with the microphone functionality because it's identical (which is why we haven't addressed this so much).
These two headphones are exceptional for gaming and music. Although Game One has a better soundstage, Game Zero provides more focus as you can't hear any exterior sound. The Game One, unlike the Game Zero Headphones, cannot fold in half. That means if you want a headset that you can bring around anywhere conveniently, the latter may be a better option. Just choose whichever one feels best for you.
Contact Us
Need any help?