Those in the field of video production know that communication with your crew is one of the keys to success. When you're dealing with a huge production, communication tends to get complicated and chaotic, and that's why intercommunication systems are essential. How can we find the best wired and wireless intercommunication systems in Singapore in a market saturated with these devices and those similar to them? Read this article to find out.
The importance of Intercommunication systems
Intercommunication systems or Intercoms bridge the gap between people by creating an instantly accessible line where they can talk to each other with just a press of a button. Large productions and businesses are the ones who benefit from using intercoms because of their ease of use and intercoms not requiring other devices like WiFi to function.
Intercoms provide two-way communication and can come in different types. The most well-known intercommunication systems are the wired and wireless types. Still, there are other types like the video intercom, where the intercom has a screen, camera and speaker. There is also the apartment intercom, which is technically a wired intercom but fixed to the building.
Intercoms make it easier for people to relay their messages to one another. They also don't require elaborate setups to operate; that's why these devices are good alternatives to smartphones and other devices along those lines.
The best wired and wireless intercommunication systems in Singapore
Now that we've discussed the importance of intercom systems and briefly touched on their different types let us enumerate the best wired and wireless intercommunication systems in Singapore. If you are looking for quality intercom systems to use in your businesses or video production companies, there's one that is perfect for you in this list.
Here are the best wired and wireless intercom systems in Singapore: 
Hollyland Solidcom M1 Wireless Intercom System
The Hollyland Solidcom M1 Wireless Intercom System is one of the best of its kind because of its ability to reach up to 1300Ft because of its external FRP antennas. You also don't have to worry about the background noise because this device eliminates background noises automatically.
The Solidcom M1's base station can also be connected to different audio equipment through its different interfaces, allowing for smooth group communication. This device also comes with the state of the art LEMO headphones that give users hands-free, high-quality communication.
Hollyland also has another high-quality product on their line, the Hollyland Mars T1000. Visit their product pages below for more information about the Solidcom M1 and the Mars T1000.
Hollyland Solidcom M1 Intercom System Product Page
Hollyland Mars T1000 Intercom System Product Page
Datavideo ITC-300 Intercom System
The Datavideo ITC-300 Intercom System can broadcast to eight channels simultaneously. There is also an option for the primary user to talk to all connected devices or just one of them. This device also has a bi-color tally light indicator to indicate available channels.
One of the best features of the ITC-300 is its ability to reach up to 100 meters in its communication distance. This device also supports cascading to up to four more channels for larger groups or teams. This single wired Intercom system also uses a single CAT cable for everything, ensuring ease of use and no more worries about complicated setups.
If you want to learn more about Datavideo's other product, the Datavideo ITC-100, visit the ITC-300 and the ITC-100's product pages below.
Datavideo ITC-300 Intercom System Product Page
Datavideo ITC-100 Intercom System Product Page

The Clear-com DX410 is one of the best wireless intercom systems in the market. It can simultaneously support up to 15 BP410 belt packs or WH410 headsets, ensuring good communication between a larger group or team.
The DX410 also has a frequency hopping feature and isn't bogged down by radio licensing due to having a frequency of 2.4Ghz band. The adaptive frequency hopping feature makes the line clearer by going to another clear frequency if the current one isn't good.
If you want an intercom that is easy to use and set up, the Clear-com DX410 is the best one for you. If you also want to check out other high-quality Clear-com products, visit their product page below.
The Clear-com FreeSpeak II is a highly touted intercom system due to accommodating 25 belt packs in the same space. One of FreeSpeak II's best features is its license-free frequency bands, ensuring that communication is easy, clear, and accessible to everyone.
Visit its product page below for more information about the Clear-com FreeSpeak II. You can also explore the site for more information about related products.
Clear-com FreeSpeak II Product Page
Trilogy Messenger Intercom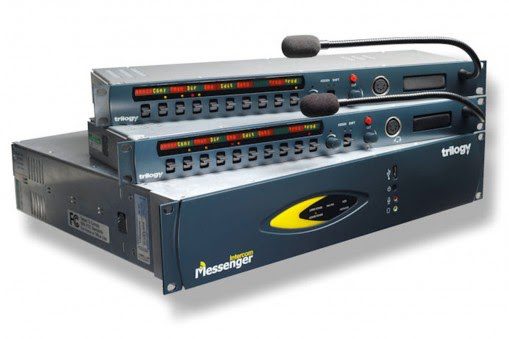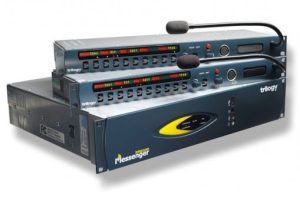 The Trilogy Messenger Intercom is one of the most affordable, user-friendly, and easy-to-use intercom systems available right now. The Messenger can accommodate up to 16-24 panels, ensuring that even a large team can use this device without worrying about running out of available panels.
There is also the option to connect to any network through the IP gateway of the device, giving the users a wide variety of choices when it comes to how they want to utilize the device. Visit the product page below for more information about the Trilogy Messenger Intercom.
Trilogy Messenger Intercom Product Page
Conclusion
Good communication is necessary to attain your goals as a team and to achieve good communication, devices like intercommunication systems are required. If you are running a large group or a part of one, the struggles of coordinating your tasks are not new to you. Make your job easier by getting one of these wired or wireless intercommunication systems.
If you are looking for the right place to get intercoms or other devices that will help make your video production job easier, you are already at the right place. Expandore offers various multimedia devices and is the one-stop solution to your video or music production needs.
If you wish to see more products or browse for other interesting, high-quality items, visit the shop page and see if anything catches your fancy. Whatever multimedia concerns you might have, rest assured that Expandore has the solution.