I believe there are a large number of OBS users who are still hesitant to buy YoloBox Pro. Today we would like to make a very simple comparison between OBS and YoloBox Pro from 3 aspects so that you can have a more intuitive feeling about YoloBox Pro. Let's start OBS Vs Yolobox
First: In terms of user experience
As we all know, OBS is one of the most popular live-streaming tools, free and professional is its biggest feature, and many people contact live streaming from this software. But if you want to do a good job with OBS live in fact is not easy, you must learn the software from the beginning of the various features.
The complex function interface makes everyone scared, if you can't master it proficiently or if the setting error occurs, you will inevitably encounter various problems in the process of live streaming. Therefore, it is very unfriendly to live white collars and users who are not good at using the software.
At the same time, the computer is not convenient to carry, especially for outdoor live events, power charging, and network environment will be a serious challenges that users have to face.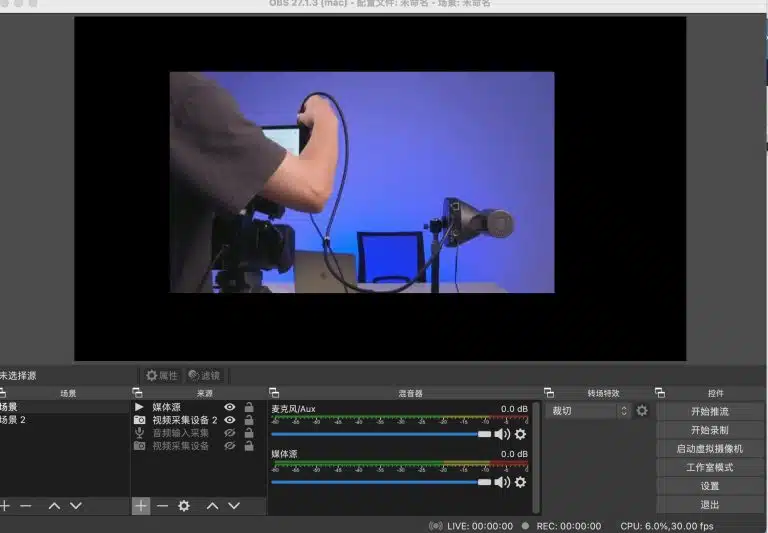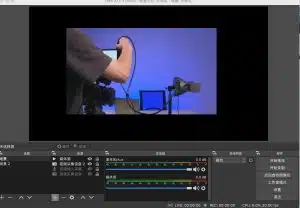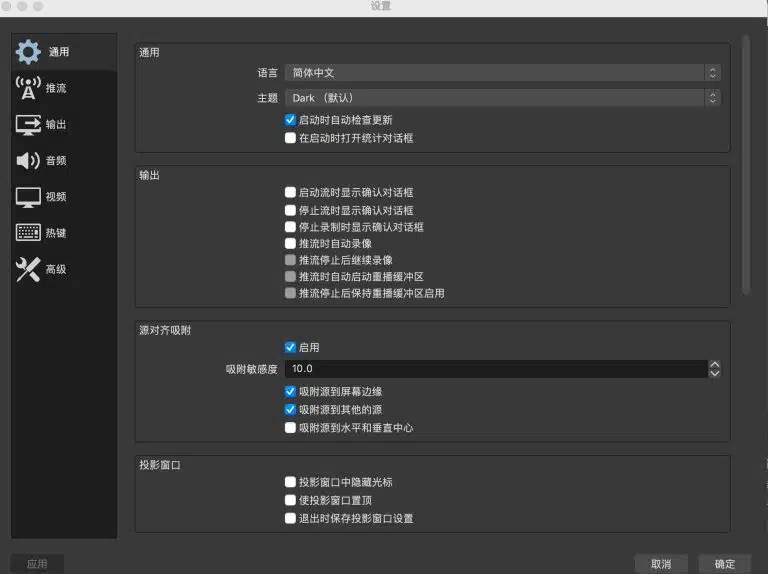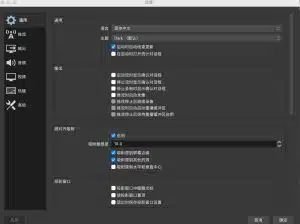 While YoloBox Pro is an Android-based product that is as easy to use as a Pad. With its 8-inch touch screen, you can quickly complete the pre-broadcast setup.
As you can see from the picture below, YoloBox Pro has 3 HDMI In and 1 USB In, so you can easily connect up to 4 Cameras/Computers/Drones/Gopro, etc. for access.
It also supports an SD card, so you can use video as well as PDF as an input source. Also, with USBC's UVC function, external cameras can now be used as a webcam to access Zoom/Skype/Teams, etc, which is very suitable for business needs.
In addition, with the built-in battery (supporting USBC charging) and 4G, live streaming can be achieved anytime and anywhere, without being restricted by location and venue. Users no longer need to understand the complex knowledge of live streaming and equipment to achieve high-quality live streaming, even grandparents who do not know the software at all can easily operate it.
Second: In terms of cost – OBS versus Yolobox
If you want to use OBS well, you need a good computer.  Please bear in mind that OBS will take up a lot of CPU/GPU resources, if the computer configuration is not good enough, it will lead to computer lag and may affect the live effect, which is another serious problem that many people have to face. If you wish to use OBS stably, the computer configuration should be at least CPU I7 or better, 16GB ram or better, and a reasonable graphics card.
Having said so, if you want to access multiple video input sources to achieve Multiple views, or to achieve a more professional look, or to achieve better audio effects, you need to get more complex equipment, which will further intensify the cost and may also increase the uncertainty of life.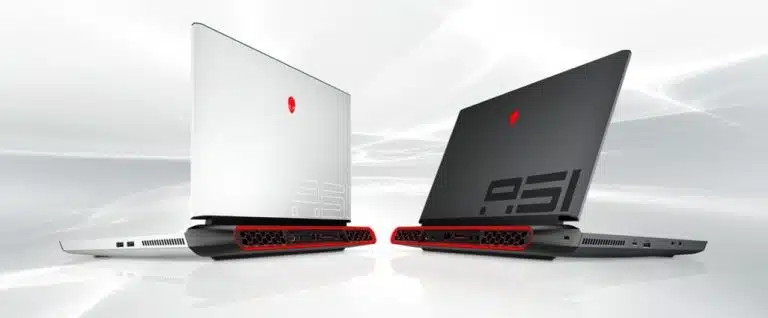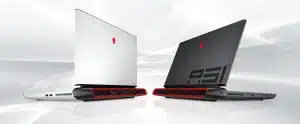 While YoloBox Pro is a very good alternative, it integrates all the hardware and software needed for live streaming. It combines an encoder, monitor, recorder, and switcher into one. You can achieve live streaming after logging into Youtube/Facebook/Twitch, etc., there is no need to buy additional equipment except your own camera. At the same time, advanced features such as multi-platform streaming, chroma-key, overlay, etc. are free. In addition, it will continue to offer you free updates of some new features from time to time. Which will let customers find it more and achieve a better user experience.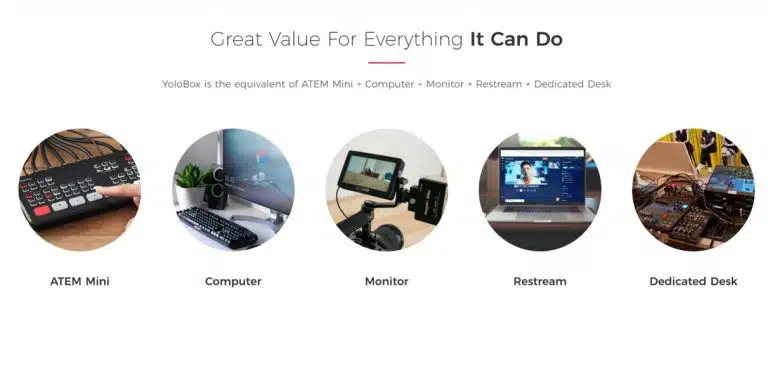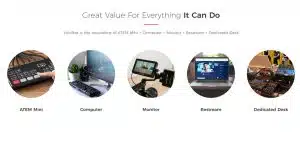 Third: In terms of after-sales service
With Software-based OBS, people don't get any service from the developers, they can only DIY and learn how to use it by google or searching on U-tube videos, etc.
YoloBox Pro,  being a high-tech product, offers a very good after-sales service. From feedback to method-solving instruction, providing consumers with an extraordinary user experience. Furthermore, all the local resellers are among the most well-reputed companies in the region, they will help to solve any problems so that no one will have any worries anymore.
So all in all, YoloBox Pro will be the best partner for your future live broadcast, welcome to consult with us and make your happy purchase.
Annexes: Comparing list – OBS Vs Yolobox Pro
Features
YoloBox Pro
OBS
Net work
WIFI/Ethernet/4G
Limited By PC*
Battery
Built-in Battery
Limited By PC*
HDMI In
3
Limited By PC*
USB In
1
Limited By PC*
HDMI Out
1
Limited By PC*
DP Out
1
Limited By PC*
Audio In
Line In/Mic In
Limited By PC*
Audio Out
1
Limited By PC*
UVC Out
Yes
Limited By PC*
SD Card
Yes
Limited By PC*
Audio Mixing
Yes
Yes
Encoding
CBR/CQ/VBR
CBR/ABR/VBR/CRF
Live Bitrate
2000-8000kbps
No Limit
Live FPS
Max to 30fps
Max to 60fps
Recording
Yes
Yes
Chroma Key
Yes
Yes
Computer Required
No(Totally PC-Less)
Yes(Nice PC Reqired)
Software Updating
Very Frequently
Not Often
Direct Streaming Integration
Facebook/YouTuber/Twitch

/Rtmps

Facebook/YouTuber/Twitch

/Ects

Multi-Views
PIP/Split View/Side By Side
No Limit
Video Output
1080P/720P/480P
1080-360P
Source Transitions
11
4/Third Party
Comments Overlay
Yes
Yes
Image Overlays
Yes
Yes
Score Board
Yes
Third Party
Web URL
Coming Soon
Yes
Lower Third(Type)
Yes
Yes
Countdown Timer
Yes
Third Party
Video Source
Yes
Yes
MP3 Source
Coming Soon
Yes
PDF Source
Yes
Yes
Live Stream Source
Yes
No
NDI
In Developing
Yes
Other Yololiv Products
Other Reading Material